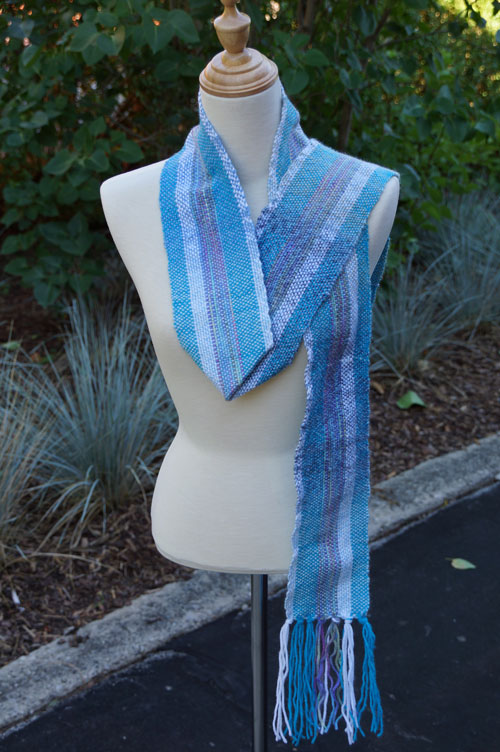 Blue Starlight Woven Scarf
These instructions for the blue starlight scarf are really simple as this is the combination of scrap yarn and one solid ball of Red Heart Collage Blue Wave. Approximate cost of this scarf is about $12. The yarn is self striping itself and transitioning on its own. Do not change the directions as the vertical direction that you will feed onto the machine. This can be completed on a 10" or 15" table top Weaving Loom by Schacht. The scarf is 5" wide by 75 inches Long without the tassels. The Red Heart Collage Blue Wave Ball was used up going across for the entire scarf.
It's the Red Heart Collage Blue Wave that really kicks this value yarn project into over drive.
Materials:
10" or 15" Schacht Weaving Loom
Scrap Yarns Used in this order: Keep in mind that when the Heddle is set up, each slot will have two strings, one going through the middle of the heddle only and the other going through the entire up and down slot.
Red Heart Shimmer Turquoise for 4 Slots (8 strings)
Red Heart Super Saver White for 3 Slots (6 strings)
Red Heart Super Saver Monet for 5 Slots (10 strings)
Red Heart Shimmer Yarn for 5 Slots (10 strings)
Red Heart Super Value White for 2 Slots (4 strings)
1 Ball of Red Heart Collage Blue Wave for the cross strings. Please note that I didn't alter any of the colouring as you see. The yarn sudden transitions and slower transitions as you see in the scarf are as it comes off the yarn ball.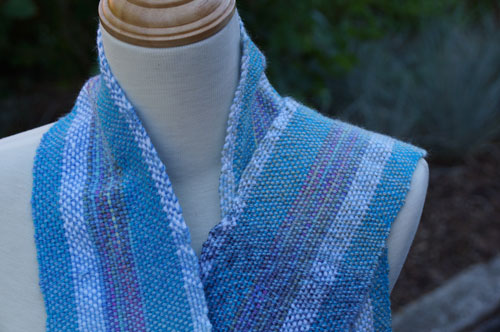 Directions
Feed Machine with the scrap yarn as indicated in the above materials list. There is the number of slots there for each colour.  The warp length is 90" from the warping peg to the back beam.
Using Red Heart Collage, weave back and forth for the entire length. You will use the entire skien
Remove from loom and tie groups of vertical strings together in an overhand tie knot.
To maintain transition effect of the yarn, you must take the yarn from the Red Heart Collage Ball, form a smaller ball that you believe will fit onto the stick shuttle. Once you think you have the right amount, wrap the smaller ball of yarn onto the stick shuttle. YOU MUST DO IT THIS WAY. If you wrap transitional type of yarn directly onto the stick shuttle from the yarn ball, it will reverse your yarn transition to be backwards. It will cause your yarn transition to be out of order and your project will not have a soft flowing transition of colours.
Disclaimer:
I am not affiliated to Schacht nor is this a paid sponsors. I simply like using this machine and sharing some patterns that I have made on this machine.