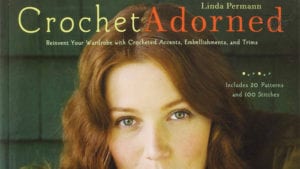 Crochet Adorned Pattern Book
This Crochet Adorned Book is definitely an eye-catcher due to the stunning cover of the model wearing a bright flowered necklace... OH WAIT... it's not a necklace, it's added embellishments to her blouse. This book is exactly about adding to what you already have.
Linda Permann, the author, does an incredible job in the first section of this book to teach methods of crochet using sketches of hand and stitch placements. It doesn't assume you know how to crochet. What I love about this book is the stitching diagrams of the patterns throughout the book. So whether you are a literal reading of the pattern or a schematic learner, Linda has got you covered.
In many aspects of her pattern, I am reminded of items that appear very artistic. The "Tree Tote" inside this book reminds me just of that. It's something you would find in a unique gift shop or artist co-op. The difference is that you have the power to create this artist magic yourself with this book.
Near the back of the book, it transitions to trims... Not only fantastic photography to show you what it will look like, written words, and schematics to follow along. I love how the complete mystery is revealed.
Linda, in my opinion, has hit a home run with this book. There are so many ideas that compliment her patterns, but you can use them on other things that are more than just embellishments. This is a must-have for the crochet enthusiast!
More Clothing Ideas