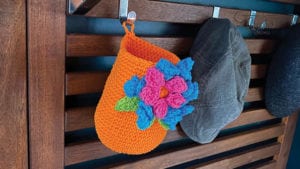 Crochet Bouquet Basket
These super cute Crochet Bouquet Basket projects showcase a cheerful kitchen decor item but I love it for other storage too.
I hung my basket near the entrance. Daniel and I share the same car. Keys go missing. Often in a pocket which sometimes makes it to the laundry basket.
For me, this basket is a great cheerful accessory. Toss in the keys or whatever that you need. I thought of other uses too.
How about holding plastic shopping bags?
Bathroom accessories that you need but don't want to clutter the counter up?
Dog leash?
Crochet hooks and accessories?


More Ideas
Tutorial
More Kitchen Patterns