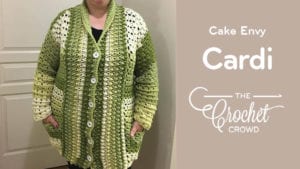 Crochet Cake Envy Cardi
Hook up my Cake Envy Cardi and watch everyone around you turn green with, well, envy, because they will want one too!  This cardigan is similar to my Modern Granny Cardigan except this one uses regular Caron Cakes.  It can also be made using the Caron Big Cakes.   I added buttons on this one, but you can omit them if you choose.
After my Modern Granny Cardigan pattern (using Caron Sprinkle Cakes) was released, I had several requests for it to be written for regular cakes, so here it is.  While I find Cake Envy not as warm as Modern Granny, I tend to wear this one more often.  I think Cake Envy is a more versatile cardigan, as I will wear it in the spring and fall as well as the winter.  With so many colour choices of Caron Cakes, you may need to make more than one!
I hope you enjoy this as much as I did!  Until you see me next time here on The Crochet Crowd, you can find me on Ravelry as The Crochet Ninja.