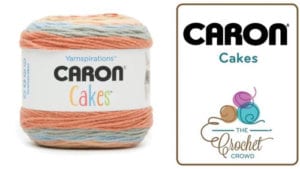 Caron Cakes Fall 2017
Caron Cakes are one of the most exciting yarns to come onto the market in 2016 and still continues to be trending today. The presentation of the yarn ball switched to a flat cake idea where you can see the long runs of 5 colours that are balanced with each other to produce what is called a Caron Cake.
As mentioned, the yarn has very long runs of colour before jumping to another. To some degree, it can make a project unpredictable where the colours change but to crocheters, like me, I love that. It almost feels like a game. In the projects, it's not always obvious where the colours switched. In other projects, the switching of colours provides a fun balance of playful colours.
This has yarn 80% Acrylic and 20% Wool. The wool is processed much finer that economy wool fibres. For some, they believe they are allergic to wool when in fact, it's just the quality of wool that their skin reacts too. For others, they have a legit allergic reaction to wool. Many consumers have stated they have been so surprised their skin hasn't reacted to this yarn. But our guess is that they were never allergic, it was the quality of the wool product itself that they remember to create skin irritation.
For those who inquired why there is wool in the product and why they didn't go with a 100% acrylic for the first-ever product. Wool offers a variety of benefits other than warmth. The dyes adhere to the wool better and you can have vibrant colours without dye bleeding. The wool provides that extra fluff to the yarn. To make it light, airy but also thicker than just regular 100% acrylic. The wool also makes it softer than 100% acrylic as well. Using wool does increase the price of the yarn but that's because the quality of the yarn is increased as a result of using it. So when comparing this yarn to others that are 100% acrylic, they really cannot be compared for quality as they are technically not the same product. While yarns that make look like may be cheaper or more expensive, look to the fibre to see the difference it will become clear why there's a difference.
For me, I love this yarn. I love the colours that the designers of the yarn carefully chose. I love the playfulness and the unpredictability.
Crochet Pattern Ideas
Video Tutorial
We have many tutorials that use this yarn. This is our playlist of options.
Yarn and Colour Choices
This yarn is currently exclusive to Michael Stores in North America. It can also be found in other retailers in the UK and Australia.
Yarn Story
Medium Weight 4
Acrylic 80%, Wool 20%
7.1 oz/ 200 g
Approx 383 yds / 350 m
Gauge Knit, 18 sts x 24 rows (4″ x 4″)
Gauge Crochet, 13 single crochet x 14 rows (4″ x 4″)
Fall 2017 New Colours & Existing Colours For Fall 2017
More Projects Featuring Caron Cakes
Caron Cakes">No post was found with your current grid settings. You should verify if you have posts inside the current selected post type(s) and if the meta key filter is not too much restrictive.