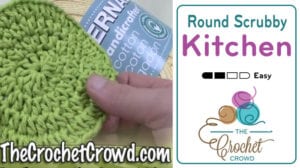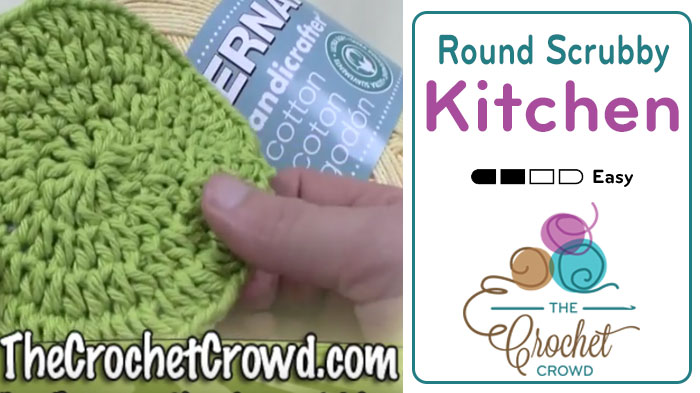 Crochet Double Layered Round Scrubby
Learn to crochet this simple double-layered crochet scrubby. Don't underestimate the idea of simplicity. I think sometimes we get bogged down with complex and time-consuming ideas.
In this pattern, we will make two circles and then we will double crochet them together to make it like a two-ply scrubby.


Pattern Suggestions
Instructions
Using 4.5 mm or Size G Crochet Hook.
Recommended yarn is Lily Sugar'n Cream or Bernat Handicrafter Yarn. Both of these are 100% Cotton. Cotton is the recommended yarn product for use in the kitchen.
Ch 3 (counts as dc), place 11 dc into the beginning chain to form a circle. Join with a slip stitch to top of beginning chain. (12 sts)
Ch 3, Dc into the same space as joining. Put 2 dc into each stitch around, join with a slip stitch.  (24 sts)
Ch 3, Dc into the same space as joining. *Dc into 1st stitch, then 2 dc into next. Repeat * around. Finalize round with a slip stitch Fasten off and weave in the end.
Now Make a Second Circle
Use the same instructions as above. Do not fasten off at the end.
Put the circles together so that the wrong sides are touching each other so the right sides will face out.
Slip stitch through the two circles together. Ch 3. Dc into the same stitch, then 2 DC through both circles into each stitch around. You are matching the stitches together as you crochet around the circle as the double crochets will permanently join them together.
Video Tutorial
This is an older tutorial that doesn't have it in a left-handed format. Only right-handed. Sorry for any inconvenience.
More Crochet Dishcloth Pattern Ideas