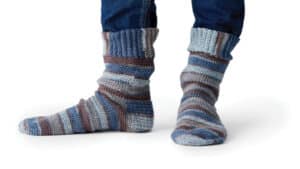 The Crochet Family Socks pattern has sizes for most of the family. Sizes include 2/4 years old, 6/8 years old and then in ladies 5/6, 7/8 and men's 10/11.
Conversions in Finished Foot Length
Child 2/4 yrs 6″ [15 cm]
Child 6/8 yrs 7½" [19 cm]
Lady's Size 5/6 9½" [24 cm]
Lady's Size 7/8 10½" [26.5 cm]
Men's 11½" [28 cm]
I don't have access to sizes beyond 11 1/2″. Generally speaking, but not always the case, for larger feet, you will extend the instep to be longer. You will need to take a guess or try them on before starting the heel or toe region depending on which way you are crocheting.
All sizes start with a minimum of 2 balls but as the sizes get to Lady's 7/8 you will need 3 balls and men's sizes 10/11 is 4 balls.
Gauging is important, so don't forget that step or your sock may not fit right.
More Ideas

Tutorial
Yarnspirations Stitch Ambassador Marly Bird will take you through crocheting a pair for yourself.
More Crochet Socks