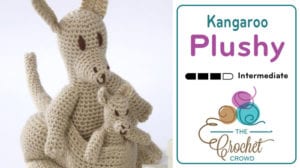 Crochet Kangaroo & Baby Joey
Learn how to crochet an amigurumi Crochet Kangaroo and her baby. This step by step project was originally produced for a mystery crochet along in 2015. Over a 4 week period, we gave clues and crocheters worked on making her and the little joey without really knowing what they were up to.
We collected photos of the crocheters' finished Kangaroos. You can see the completed gallery. View the Gallery.
The video presentation is 5 videos combined together to make it easier for you to get everything. Due to the project being a mystery, we don't follow the pattern step by step. Instead, we jump around doing all of the components but the assembly and final project will come together without you having to backtrack.
Learn how to do this cute amigurumi kangaroo.

Video Tutorial
Only available in right handed.
More Projects Used in Stitch Alongs