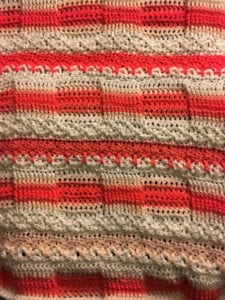 Crochet Ridges and Ruffles Blanket
Hook up my Ridges and Ruffles Blanket and keep warm on those cold winter nights!  I love crocheting texture into projects as it gives it the "WOW" factor, and this pattern is full of both texture and "WOW"!  It may look complicated to do, but the pattern has plenty of repeats which makes it easier to crochet than it looks.
I used Caron Simply Soft yarn in Off White, Light Country Peach, Persimmon, and Neon Coral.  I was a little hesitant at first to use this colour pallette — it is one I have never worked with before — but corals and peaches are the favourite colours of this blanket's future owner, so I knew I had to use these colours.  Now that it's complete, I love how the colours work together, and wonder what took me so long to try it!
I think this pattern would be stunning using Caron Cakes (either the regular cakes or the Big Cakes) and allowing the colours to change on their own.  I also think it would look amazing with one solid colour.
I hope you enjoy this pattern as much as I did!  Until you see me next time here on The Crochet Crowd, you can find me on Ravelry as The Crochet Ninja.