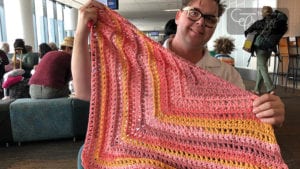 Crochet Shawl On A Plane
Crochet Shawl On A Plane was really designed on a plane as an easy repeat pattern to keep me occupied as I crocheted from the Atlantic Coast to the Pacific Coast.
Designed with texture and 4 unique rows in the pattern to keep your mind busy instead of getting stuck in the boredom of a plane journey.


The pattern is a 4-row repeat which is easy to count. Every time the pattern repeats, the bean stitches and treble back post cross stitches will have expanded by 5. So you can double-check your counts at those rows fairly easily.
Pattern Suggestions
Back Story
I took off from Halifax and it took me an hour to keep restarting to get the counts and look I wanted. By the time I was flying over Quebec, I had my pattern in my head and began to make the sample.
Landing in Toronto and continuing to make my shawl as I waited for the next plane, I boarded again for another 5 hours to San Francisco. By the time I got to San Francisco, we had a 3-hour layover and again another 1-hour flight to Reno, Nevada! It was a long day to put it in family-friendly terms.
More Shawls