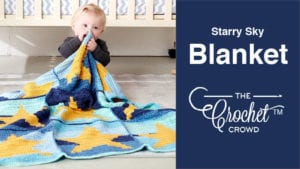 Crochet Starry Sky Baby Blanket
Using Tapestry Crochet Techniques, you can try this Crochet Starry Sky Blanket. There are 9 motifs using this same technique. Once all 9 are completed, you can join them together to form the blanket.
You then apply a simple border to them.
For the blue area, let the colours naturally come out of the ball. The sky is meant to be different tinges of blue.


More Pattern Ideas
Tapestry Techniques
Please note the graph used in this project, each box = 2 dc. The stitches are dc instead.
More Baby Blanket Ideas
Baby Blanket Pattern Ideas