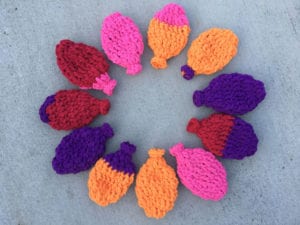 I have to say, this might be one of the strangest things I've ever crocheted, but in reality, it might be the most practical and is certainly the most fun.  Who would have ever thought... crocheted water balloons!
One of my favourites crochet blogs is Left in Knots and I just saw a post a couple of days ago making these toys.  Here is a direct link to her pattern and video tutorial so you can make your own Crochet Water Balloons.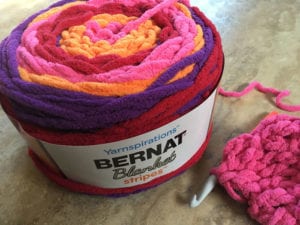 You can use any of the Bernat Blanket yarns.  One ball will make 11 balloons.  I really liked using the colourful Bernat Blanket Stripes yarn that recently became available.  These hook up super quick.  I could make a balloon in less than 15 minutes.
There so many good things about playing with these.  No filling up tons of balloons only to have broken bits of rubber all over your yard.  These are washable and reusable over and over!  They soak up water like a sponge and you can toss them around all day.  My granddaughters had a blast playing with them and nothing makes me happier than to hear those happy giggles and seeing the big smiles. 🙂
Jeanne With Her Grandchildren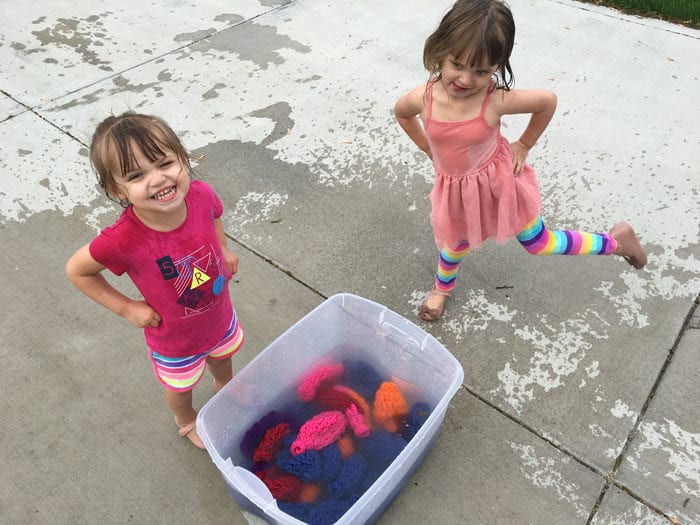 More Bernat Blanket Yarn Ideas
Bernat Blanket Yarn">No post was found with your current grid settings. You should verify if you have posts inside the current selected post type(s) and if the meta key filter is not too much restrictive.