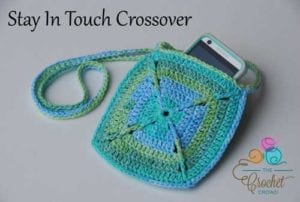 Crochet a Stay In Touch Crossover
A quick and easy crocheted crossover pouch to stay connected while on-the-go.
I was really attracted to the recent video tutorial the Mikey did for the Rainbow Dishcloth, but I thought it would be fun to use it for something else.  When he does these dishcloths, they are all perfect squares to use for other projects.
When I go for a walk, I like to just have my cell phone and a couple of dollars on me, so I came up with this little cross-body pouch for those occasions.  It will also be perfect for going to the farmer's markets and festivals that with like to attend as soon as those pop up at the beginning of May.
Stay In Touch Crossover
Lily Sugar 'n Cream Country Stripes
3.75mm F Hook
Following the directions for the Over the Rainbow Dishcloth Pattern, crochet 2 squares.  I dropped to the F hook to make the squares tighter and more sturdy.  I used self-striping yarn instead of changing colours, but the colour options are limitless.  I used one ball for my project, but I only had 18″ of yarn left when I was done.


Video Tutorial
Here's how you make the squares.
Holding the two squares with wrong sides together, single crochet together around 3 sides, placing 3 sc in the bottom two corner stitches.  After the third side, crochet a chain long enough to fit over your shoulder and cross-body.  Mine was 45″ long, but I didn't bother to count the chains.  Do consider that once the bag is holding a cell phone, the strap may stretch a bit.  Skip the first chain from the hook and single crochet back along the chain.  In the end, slip stitch into the next stitch on the top opening of the pouch, and continue to slip stitch around the entire opening.  Fasten off.  Take your long strap and attach the free end to the pouch by just sewing securely with a yarn needle.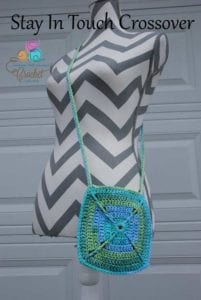 Add
to your Ravelry Favorites with the button below.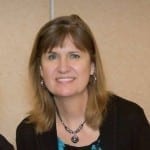 Be creative! 🙂 – Jeanne – The Crochet Crowd
More Dishcloth Pattern Ideas