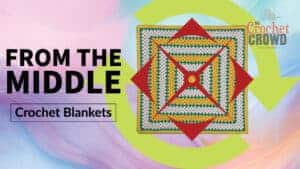 From the middle crochet blankets is when a crochet blanket will expand from the centre and go outward. A lot of Jeanne and I's patterns are from the middle concept. The from the middle could be circles, squares, rectangles or triangles. It's usually referred to patterns where the pattern can grow to infinity.
Meaning: Blankets that are in the round, from the centre out.
Many of the historical patterns of crochet granny squares are considered from the middle. Some people get bent out of shape when they copy a concept or are unaware that a granny square design is recorded in history. Many of those squares can be grown outward to as big as you need to complete the stitch concept to the size that you prefer.
Some designers, like Yarnspirations and ourselves are captivated by this concept as they present really beautiful concepts and reduce the need for excessive counting.
Some patterns can be stitch samplers while others can be a simple repeat of one round or multiples to complete the entire project.
---
Watch the Gauging
From the middle requires a gauge check due to the project going in a circle around the core of the project. The project can buckle or ruffle out if the gauge is off. We keep a running document behind the scenes of every time we need to run a gauge swatch on something.
If we need to check a gauge and compare it to a pattern, we will know instantly to change the hook size to match. I'm unable to match the gauge on the Red Heart Super Saver with the same size hook if you look at the blue writing in the document below. I record every brand I crochet with. I update this document continuously as the need arises. What changes my gauge is my mood swings but I stay pretty consistent.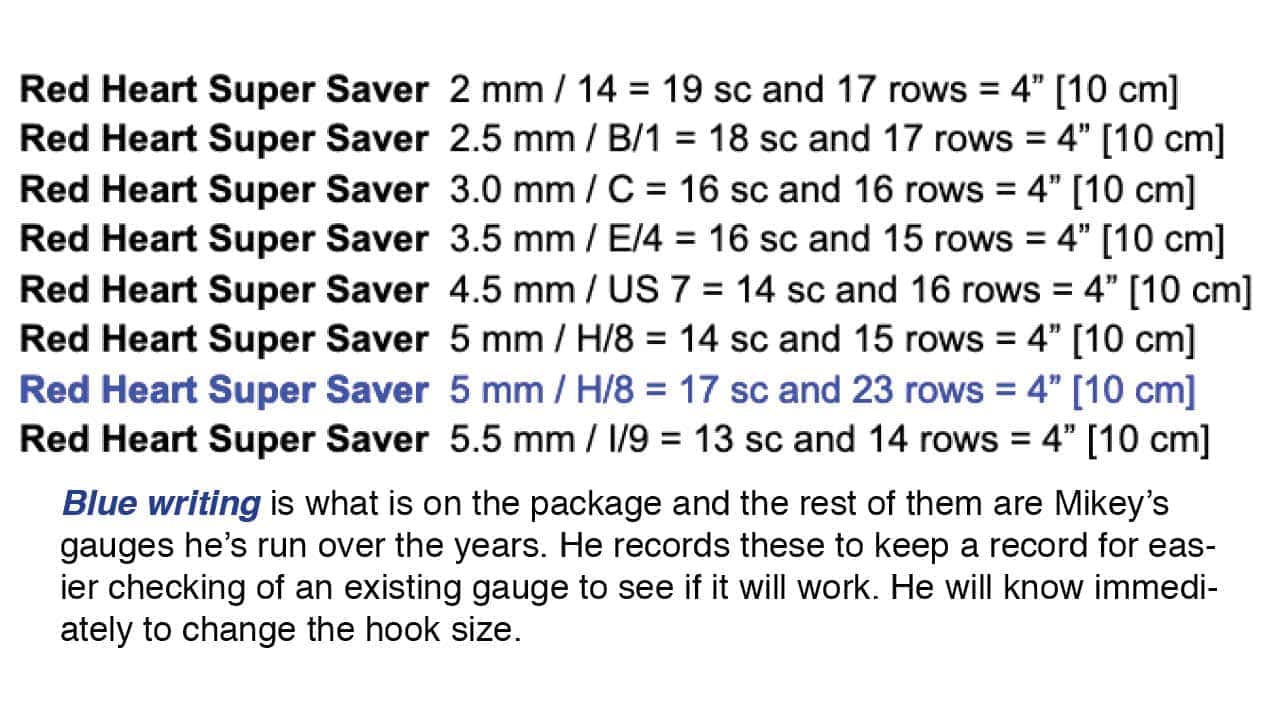 ---
If you are unsure how to do a gauge check with crochet, let me show you above using the summer stitch along.
---
Here's the Ugly Reality!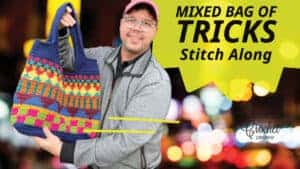 The designer's hands and yours are different from each other. Gauge is the only way to communicate the sizing to strive for. Most people who put on social media a complaint about a sizing issue whether the project didn't turn out to size or the project misshaped haven't done a gauge check. There's no coming back from that. You are better to spend fifteen to twenty minutes doing a gauge check versus hours of a project that may not size correctly.
Fun fact: When Mikey uses Bernat Blanket, he's much tighter than the real project. It could be his method but knowing this advance allows him to increase his hook to match the gauging.
Jeanne has combed our website to find patterns that are from the middle concept. They are below.
---
From The Middle Pattern Selections
Scroll through to locate a pattern that excites you the most.