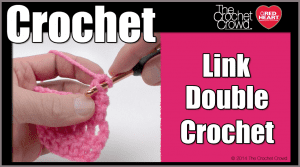 Link Double Crochet
To shake things up a bit… I'm going to do my first ever pictorial tutorial showing Link Double Crochet. The video is posted at the bottom. I know due to the bandwidth that videos aren't always ideal. In today's blog, I'm going to show it to you in both methods… Pictorial and Video.
Double Link Crochet, as per Red Heart Yarns, is completed by doing the following.
Ldc -Insert hook in center (horizontal) bar of the last st
(or the 2nd ch of beginning ch-3) and draw up a loop (2
loops on hook); insert hook in next st and draw up a loop
(3 loops on hook); [yarn over and draw through 2 loops on
hook] twice.
An example of a pattern for this is the Heart & Sole Crochet Socks.
You would complete this type of stitch when you don't want the stitches to appear sparse between the posts. It locks stitches together on the top and bottom as usual BUT also locks them together in the middle as well. It provides a more solid look to your finished project.
This is how you start a new row and/or begin from a chain.
Now we repeat across the chain and/or row doing the following.
Are these types of articles helpful to you? I would love your feedback! Leave a comment below.