Quick Headband
I really love the Drapey Cowl by Yarnspirations, so I decided to give it a try with Patons Denim-y yarn in Grey Denim for a different look.  But I thought it needed a matching headband so here is what I came up with to go with the cowl. This is the Infinity Headband pattern.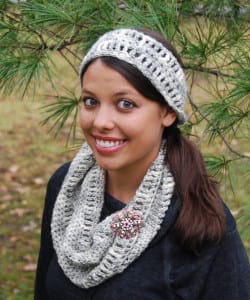 Infinity Headband II
Patons Denim-y in Grey Denim
Hook size – 5.5m I
Yarn needle
Foundation SC 48.  You might need more or less depending on your head size.  My head is average.
Bring ends together being careful not to twist, then twist a half turn and join in first sc with a slst.  For detailed photos on doing this step, see original Infinity Headband.
Round 1 – Ch 1 and sc in every stitch around.  Because of the infinity style, you actually go around the headband twice.  Join with slst to 1st sc.
Round 2 – Ch 4 (counts as first treble crochet), treble crochet in stitch around, join with slst to top of ch 4.
Round 3 – C 1 and sc in every stitch around, join with slst to 1st sc.  Finish off and weave in ends.
You can wear the twist in the back where it's not noticed, or bring it to the front and highlight it with a pretty brooch.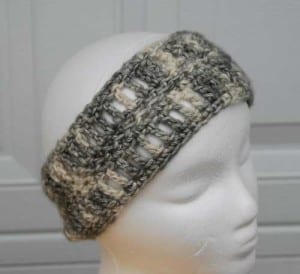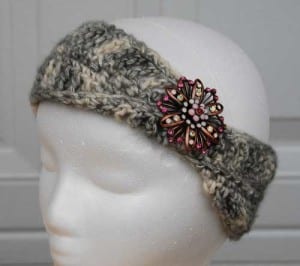 Click here to save to your Ravelry favorites.
Be creative! 🙂 – Jeanne – The Crochet Crowd