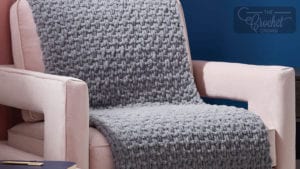 Bernat EZ Seed Stitch Blanket
The Bernat EZ Seed Stitch Blanket is achieved through doing knit and purl stitches in a combination. 1 stitch is knit, the next is purl. Knit is achieved from pulling loops from back to front. Purl is pulling loops from front to back. To get the look, you have to do opposite stitches over the top of each other. So if the stitch below is knit stitch, the one on top if purl stitch.
There's a lot to the descriptions of the patterns but it takes a few extra words to explain the process. Once you get it, it will click easily.


More Bernat EZ Ideas
Bernat Alize Blanket EZ Yarn
Casting on with Bernat Alize Blanket EZ yarn is very simple due to the pre-formed loops. You can cast on in either right to left, or left to right. Some patterns that we have, it matters which side you start on. You will notice that in the tutorial work.
Each loop counts as a stitch. To start the project. Count the number of loops across and once satisfied, begin doubling back with pulling loops from the back to front. In some patterns, you may be pulling front to back. Either way, there's really nothing fancy involved to get yourself started.
So essentially, count and begin to loop the stitches through.
For the Knit Stitch
Showing the loops coming from back to front.
For the Purl Stitch
Watch how the loops go from front to back.
More Bernat Alize Blanket EZ Ideas
Bernat Alize Blanket EZ" data-style="grid" data-row="1" data-layout="vertical" data-rtl="" data-fitrows="" data-filtercomb="" data-filterlogic="OR" data-filterload ="" data-sortbyload ="" data-orderload ="false" data-fullwidth="" data-fullheight="null" data-gutters="[[320,5],[480,5],[768,10],[980,10],[1200,10],[9999,10]]" data-slider='{"itemNav":"null","swingSpeed":0.1,"cycleBy":"null","cycle":5000,"startAt":1}' data-ratio="1.78" data-cols="[[320,1],[480,2],[768,3],[980,4],[1200,4],[9999,5]]" data-rows="[[320,200],[480,200],[768,220],[980,220],[1200,240],[9999,240]]" data-animation='{"name":"Fade in","visible":"","hidden":""}' data-transition="700ms" data-ajaxmethod="load_more" data-ajaxdelay="100" data-preloader="1" data-itemdelay="100" data-gallery="" data-ajax="">