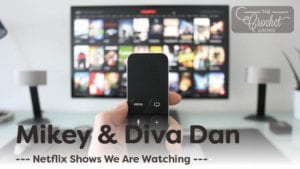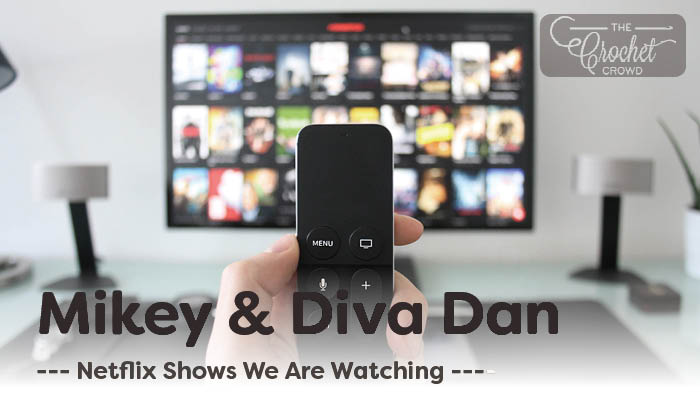 May 2019 Crochet Binge-Watching
I crochet in front of the TV at night time. Most times working on samples that appear in videos. In my lifetime, I have heard more TV shows/movies that I have physically stared at the screen for. In some cases, I've been disappointed when I look up and what I am imagining as I listen is completely different on the screen.
Mikey's TV / Movie Taste
Movies where women are empowered and show personal growth or awakenings.
Sequential series where you come to understand the characters. I'm most likely to watch a tv drama series.
I like court or investigative shows.
I like shocking fun humour, but not humour where someone may potentially hurt themselves like Jack Ass type shows or movies.
I'm definitely not a sitcom watcher.
Documentaries in social behaviour are high on my interest list.
I can take upwards of 45 minutes to flip through to find something to watch. It drives Daniel crazy.
Daniel's TV / Movie Taste
Daniel is motivated to watch Food Reality or Food Documentary based shows. He loves hearing about ingredients and ways to cook. He usually takes the lessons he learns and applies them to his cooking skills.
He likes action-packed movies from time to time that include Marvel. Not my favourite but I'm crocheting and can zone it out if I am not interested in it.
Documentaries on the environment and global issues are high on the list.
Daniel is also not a sitcom watcher and can choose what to watch in a matter of a minute or two. I don't know how he does that.
Binge-Watching
Dramas
Office Legal Drama
We are on season 2. We didn't realize the Duchess of Sussex, Prince Harry's wife was an actress. We went through Season 1 recognizing here but didn't know where she was from. We finally looked her up on the last Episode. We recognized her from the tabloids.
Daniel's favourite character is Louis Litt. He's comic relief and does such a great job in keeping you engaged.
My favourite character is Jessica Pearson. She's a powerful woman and I love her portrayal of her role.
We both agree Mike Ross is a busy body and needs to mind his own business once in a while.
We are not sure how much further we are going to get into this series. We are growing bored with the plot line.
Women's prison-based show.
This is more of me show. It's got drama and the right mix that keeps me engaged. I'm a huge fan of Kate Mulgrew from Star Trek. She also has crochet items with her bunk.
I feel the main characters of the show are not who are main focus of the photographs used in marketing. I feel show should have moved towards Taysee and Cindy as being the main actresses of the show. I feel those two can carry the show. There are so many great actresses in this show.
I don't cry easily but the last episode when one of the inmates got directed to an ICE bus just left me holding my breath in shock. I was devastated.
Women's prison-based show.
Of the women's prison shows, this one is my ultimate favourite. Joan Ferguson plays such as a stellar role in this show. You don't know if you can love her or be afraid she might stab you with her pencil. They portray her character in wanting more.
Elizabeth Birdsworth is a crocheter and is shown in scenes teaching others. Her cell, plus many more have a crochet item as well. I enjoy seeing what's in her bunk for crochet projects.
An icelandic murder mystery based on a ferry boat that arrived into a port that was snowed in. The show is sub-titled but worth the watch.
The show has you engaged with less than perfect people trying to do the right thing but also worried about so many factors. It's portrayed in the dead of winter.
I wouldn't say it's a fun watch but I was engaged right until the ending of the credits on the last episode.
Season 2 is now out but we haven't started to watch it yet. 
A murder mystery involving the disappearance of an 11-year-old boy.
The actors don't belong together. They have personal issues but have to work together to solve the case.
The show has gone into 2 seasons with the second season following up on the first season.
I will tell you, the scene where the killer is determined and the main actress, Ellie figures it out. Again, I don't cry easily, it was one of the most powerful scenes I have seen. If I didn't know better, I would have thought it was true to life. My gut came into my throat and I swear there was dust in my eyes.
This is a show that causes me to tie knots with my crochet hook. Daniel loved this series.
Based on a house and a constant going back and forth in time to tell the story. Daniel was hooked.
There are scenes of sudden music lifts and jumping out. I have screamed a few times watching it. I prefer to look at my crochet project. For Daniel, he put down Pinterest and watched intently.
Science and Mental Thriller. Not jump out scary but you are wanting more and more.
We are wanting the main actors to survive their ordeal but we are left for episodes on trying to figure out what is going on.
Loved Season 1… I'm still confused about Season 2 but have seen it all. I'm not sure I really understand this show but will watch Season 3.
We never watch anything in a series twice with the exception of Sense 8. We are highly disappointed the show came to a conclusion due to the cost of production.
For many episodes, you don't get what is happening, which is why we went back to watch it a second time after we are getting the plot.
Of any show on Netflix, by far, this is our favourite of them all.
You have to be open-minded as it does deal with relationships of all types in the plot line.
Documentaries
The Circus
This is a two-part series based on historical circuses in the early 1800-1900s.
I saw Part 2 on Air Canada while going to Mardi Gras Crochet Cruise. It's now on Netflix and I have watched Part 1.
It's amazing to walk back in time when Circus was the main attraction. People have never seen creatures and performers until they rolled into town.
It really shows the inequality of global races and inhumane treatment of the animals that were hauled around with 1000's of crew members and performers.
I found it very fascinating on seeing what was important and also showing the rise of the women's movement for equality as it went on.
Blue Planet
David's voice in narrating the several series is extremely recognizable.
It's showing you the best but also the worst of what could be if trends continue.
Two episodes of this series sent a rush of emotions to my eyes. It portrayed Walrus being pushed to islands where the sea ice is gone. Walrus climbing up huge cliffs to get space to rest. Upon the need to get back in the ocean, just to eyesight, they are unaware of how to get down and literally are falling off the side of the high cliffs dying on impact by the hundreds. In the final episode, they are showing behind the scenes of the camera crew. The camera crew is only filming and not intervening on life. The crew are literally in tears watching these massive creatures falling to their death.
Blackfish
A documentary based on a young male killer whale taken from his mother for captivity and entertainment purposes.
This is a documentary that is really upsetting and leaves you to wonder if humanity is really that gracious after all.
It's determined that whale vocals are not the same throughout the world. It's based on family and a whale being taken is forced into captivity not being able to speak the language of the other whales. The whale is brutalized by the other whales and emotionally and physically injured by the other whales in the holding tank.
The whale is forced to perform or starve.
The whale would come to drown its trainer, essentially blackmarking the whale as a danger putting on new regulations that trainers are not to be in the same pool as a killer whale. The whale is disciplined with more isolation which ended up being a danger to be in the pool.
There are no heroes in this documentary. It is just cruelty.
Embarrassing Bodies
Fascinating show on everyday issues we face as humans but a team of three doctors tackle everyday questions that we have about our bodies.
This show opened up my eyes to an issue I have that I prefer not to go to a doctor due to being embarrassing.
The show gave me courage and really my issue is no big deal.
This show is graphic in nudity and but from a medical perspective.
Reality TV
Instant Hotel
Based In Australia. It's a hilarious watch on couples duelling for the best Bed and Breakfast.
The guests can be your heroes or you can want them to have some hardship. It depends on the episode.
The one gay couple in Season 1 is hilarious with fabulous one-liners. They love to trash talk the other contestants and they do so unapologetically.
From this, we learned how to better decorate and be prepared for guests in our home.
RuPaul Drag Race
I like this show for the creativity of the show itself. From watching the designing of the costumes.
The catty-nature of the queens can either be a fun watch or you get tired of the drama.
This is not a show on Daniel's list but it is mine.
I'm on the fence about the pun humour during the runway but I cannot see a better way of doing it. So it's still a fun watch.
Nailed It!
A baking show for amateurs expected to do extraordinary things.
The editing of the show can be really funny. However, I do think at times the hosts are trying to be over funny which doesn't land in my humour box all the time.
Would I say binge-worthy? Maybe a few episodes and then take a quick break and then revisit again.
Trash
Remember, this is just an opinion. You may love these shows.
Selling Sunset
I think this show is about the real-estate trying to be top-dog with constant ad placements for their real estate services. I think it's one big ad show.
I feel the women are picking fights with each other because it suits the camera because if that is real, I don't know how they stay in business.
I did binge-watch the entire season. If season 2 comes out, PASS! I felt I needed a shower after it. Not my thing.
I just cannot believe a realty office works with so many people willing to throw each other under the bus and get into each other's personal lives so deeply.
The thought of "Mind Your Own Business!" comes to my mind.
Botched Up Bodies
Ummm just no. Watched a couple episodes. No thanks.
I think they are trying to do us a favour in ensuring you get the right doctor to prevent plastic surgury from going wrong. Truth is, things happen.
The graphic nature of this show really bothers me. I can do without.
Conclusion
If you are interested in knowing more about our thoughts on shows, leave us a comment below in the blog. If you have any suggestions for us, we would love to hear about it.