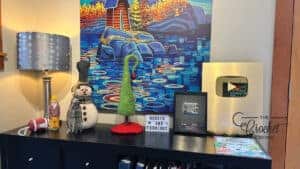 The unwritten divide in the yarn arts between crocheters and knitters baffles me. Yes, I get it; people have a preference for hobbies and material choices. Why is there a wall between the hobbies? You can leave me a comment at the bottom of this blog.
I don't understand this need to be exclusive when, to me, the yarn arts are about inclusivity and welcoming. Maybe I am sucking too many yarn fumes these days.
I ask myself the following questions automatically:
If I see someone's creative choices, yarn colours, stitches, project purpose or level of quality that isn't to my liking:

I have a choice to ruin someone's day by expressing my personal thoughts.
I can see their enthusiasm and express happiness for their own joy, leaving my thought out of the equation about the finished product.
I can just push a like or heart button and scroll on. Knowing it will make them happy.
I can do nothing; scroll on.

If someone isn't doing a hobby that I prefer or appreciate in the way they do:

I can do all of the above in number one, but I take it a step further and ask myself a more appropriate question. "How does their hobby choice directly affect my life?" Chances are, it doesn't, so crap on their parade is a selfish approach and destructive.

If someone is expressing interest and curiosity in another hobby:

You have the choices in number one. More importantly, we are unique and can sometimes have a buried interest or gift that we may never explore due to pleasing others. We don't need to bully others into having their minds changed for our selfish interests.
In 2022, we see a decline in social behaviour online that frankly makes me question if humanity was truly ready to be connected like we are. Addiction to communications and social opinions can be extremely destructive. I know myself; I am taking on the heat for trying to learn knitting.
As a YouTube Host, I see opportunities to show others my progress on knitting itself. A raw approach where most other hosts have years under their belt to teach from. I, just merely weeks from a raw, slow point of view.
In my brain, I've been thinking about what it's like to bake an apple pie for years. Nothing else. Eventually, you have it down pat with 1000's apple pies made. What would it be like to do a pear pie instead? That's where I am, emotionally. With nearly coming up to 4,000 tutorials on YouTube all focused on Apple Pie, why not try a pear pie and see where it goes? 
My New Objective
In a world that is now clouded by negative social content. Let's be supportive of each other and the choices we make. If you don't like the hobby, stay out of it and let others enjoy it.
One person, I, cannot be the difference. But as a collective, we can be. It doesn't take more than a few seconds to encourage others. Unfortunately, social media is driven by negativity. The more negative, the more viral it goes. Society is making this choice by the way we interact with the content. If companies saw that positivity has bigger opportunities, they would promote it. So in many ways, our interactions and attitude play heavily into it.
I tend to avoid negative postings of people complaining about things under the sun. It doesn't bring me happiness, but joyful and positive stories can enlighten my day. I have to actively make this decision for myself to function properly.
You can either be a cheerleader in this world, or you can choose to be the person that has to highlight the negativity and point out when someone's creative decision isn't to your liking. Of course, politics and religion are the fuel to create a fight, which is why we don't allow that on our platforms.
I think the unwritten divide between knitters and crocheters needs to stop. In 2022, it's the least of our worries. I would like to see us actively support each other. Change can only happen one person at a time. Are you up for a challenge?