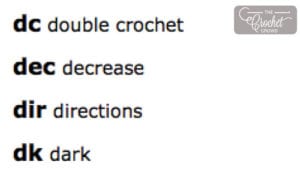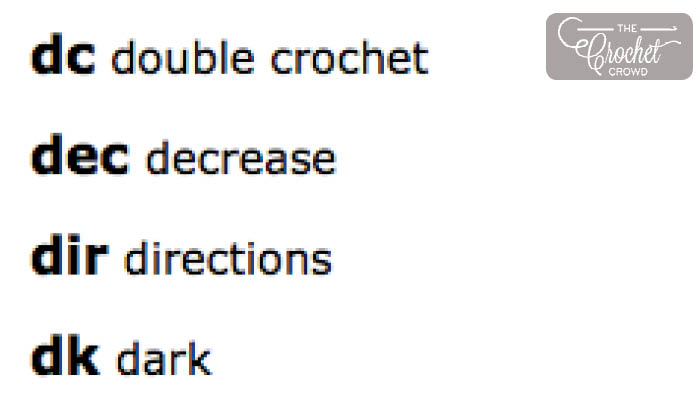 Below is a long list of abbreviations in Alphabetical order for crochet abbreviations that appear in written patterns. The Yarn Council of America is looking to ensure patterns are standardized so that people don't come up with weird combinations for existing abbreviations. Click read more to get the list of all the abbreviations that can help you.
Helpful Tip When Reading Instructions
4th rnd: RS. Ch 1. *1 sc in next st, 2 hdc in next st, sk next st, 3 dcfp in next st, sk next st, 2 hdc in next st, 1 sc in next st. Rep from * around. Turn. Join. 9 sts, 45 sts.
Above is an example of an instruction. You will notice below that the first letter of the abbreviation is capitalized. It is because it's a start of a new sentence. When the instructions are presented, it's like a full sentence so that if the abbreviation is not the first word of a new sentence, it will stay the lower case. There are some exceptions like RS (right side) and WS (wrong side) but I don't really know why and some pattern writers do it both ways.
Pattern Instruction Abbreviations
Alt  = Alternate
Approx = Approximately
Beg = Begin(ning)
Blo = Back Loop Only
Bs = Bean Stitch
CC = Contrasting Colour
Ch = Chain(s)
Cl = Cluster
Cont = Continue
Dtr = Double Treble
Dc = Double Crochet
Dcbp = Double Crochet Back Post
Dcfp = Double Crochet Front Post
Dec = Decrease
Dir = Directions
Dk = Dark
Dnt = Do Not Turn
Ea = Each
Ex sc = Extended Single Crochet
Fig = Figure 1, 2 or 3 and etc (picture or diagram on pattern)
Flo = Front Loop Only
Fo = Fasten Off
Foll = Following
Gr = Group
Hdc = Half Double Crochet
Hdcbp = Half Double Crochet Back Post
Hdcfp = Half Double Crochet Front Post
Hk = Hook
Inc = Increase
Incl = Including
Ldc = Long Double Crochet
Lsc = Long Single Crochet
Lp(s) = Loop(s)
Lsc = Long Single Crochet
Lt = Light
Pat = Pattern or Pattern Stitch
Pc = Popcorn
Prev = Previous
Rem = Remaining
Rep = Repeat(ing)
Rnd(s) = Round(s)
RS = Right Side
Rsc = Reverse Single Crochet aka Crab Stitch
Sc = Single Crochet
Scbp = Single Crochet Back Post
Scfp = Single Crochet Front Post
Sk = Skip
Sp(s) = Space(s)
St(s) = Stitch(es)
Tch = Turning Chain
Tog = Together
Tr = Treble
Trbp = Treble Back Post
Trfp = Treble Front Post
x times = Number of Times to Repeat
WS = Wrong Side
Yoh = Yarn Over Hook
---
Technical Abbreviations
G = Grams
In = Inches
M = Metres / Meters
MC = Main Colour
Med = Medium
No. = Number
mm = Millimetres
Oz = Ounces
Yds = Yards