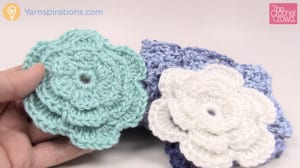 Crochet the Posy Flower
Learn how to crochet this posy flower. This is a 3 tier flower that is exceptionally easy to maintain the pattern.
The flower doesn't change colour in the original pattern. This simply means there is no fussing around with loose ends making them quick and easy.
You can find it in this pattern here: Cozy Posy Scarf.
Video Tutorial Below