The Crochet Crowd Yarn Studio
An explosion of creativity and 'safe space' for yarn lovers such as crocheters and knitters. A studio designed to explore your personal creativity among other crafters just like you. A play studio for adults. 
You can visit our FACEBOOK PAGE for this Studio Here.
The studio is being designed in a retreat workshop format with ample space of tables and comfortable chairs to feel at home. The studio is infused with ideas, inspiration and colour. A carnival-like feel with something unique to discover all around the studio. Keep on looking around and discover vignettes of themed ideas and just fun presentation of ridiculously cute ideas.
Map of Nova Scotia with Yarn Shops
Click brochure to see locations and download this map.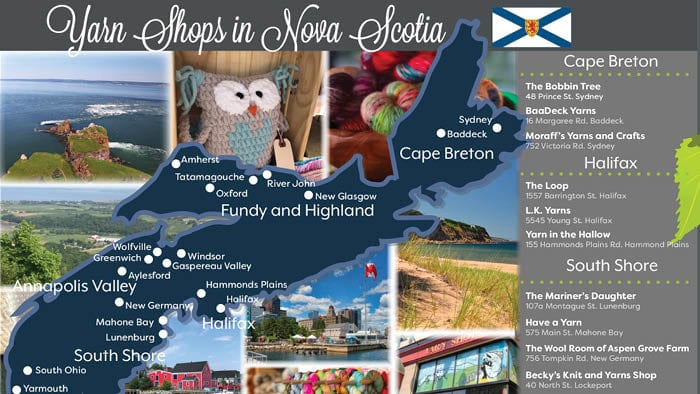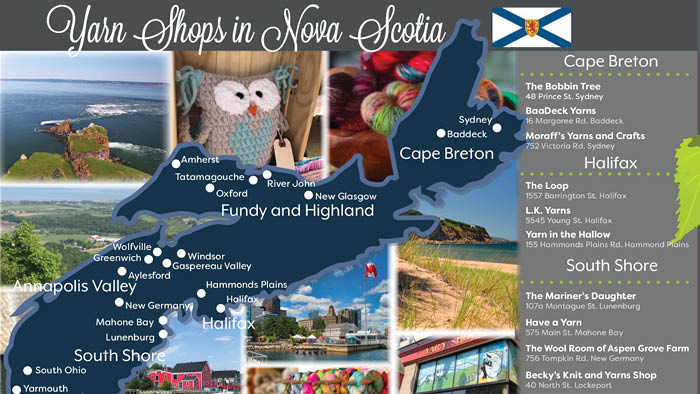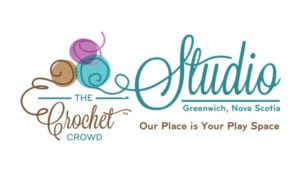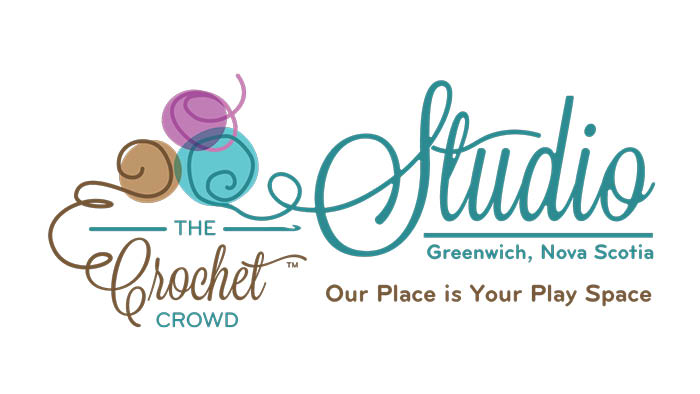 In our space, it can hold 40 people in community tables to allow conversation to flow between you and your neighbours. With lightly playing jazz in the background to relax and open your minds to the curiousity of what fibre can do. Creativity is encouraged where possibilities are open for you to explore.
Hours of Operation
CLOSED FOR THE SEASON - YEAR END CLEARANCE SUNDAY, DEC 29th from 12 Noon - 3 pm ONLY. This is not a stitch social, all boxes opened and tables put away.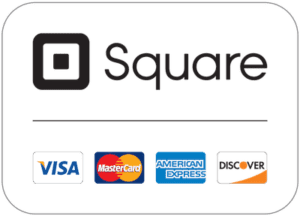 Clearance Yarns & Implements For Sale
Our studio has clearance yarns and implements for sale. The clearance yarns are brought in from Canada and the USA with rates that may vary based on shipping prices and customs charges if crossing the border. Prices may flux based on the time of ordering the products.
The clearance yarns are strictly clearance. They are first come, first serve with limited quantity opportunities. As yarns become discontinued, colours may be difficult to find and change. We cannot guarantee to re-order the same yarns or colours if we sell out.
We will have Square to settle credit card and debit card transactions. We will also have limited cash on hand. 15% Nova Scotia HST will be applied to the purchases. Please note, we are in Canada and our Square will only accept Canadian Debit and Canadian Resident Credit Cards. If you are traveling through from outside Canada, have cash on hand. All prices are in CDN Funds. There is no shipping from our studio. All purchases are final and are to be picked up in person.
Please bring with you your reusable bags or plastic bags to take home your purchases with you. We will provide a gallery of yarn products available so you can plan ahead.
Items will either be sold by the ball or sealed retail package. Prices will be marked at the studio and priced to sell. This is not a yard sale, it's a yarn sale direct from the manufacturer to you.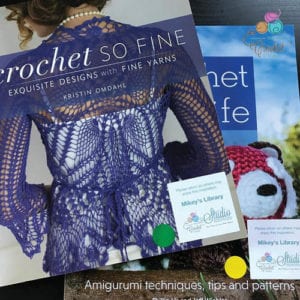 Mikey's Library
We have 162 books to browse and borrow at the studio. Most of the books are crochet from the basics of learning, stitch techniques, fashion, amigurumi, and home decor.
We also have few books on knitting and loom knitting.
In our crafting section, we have books for soap making, candles and jewellery.
You are welcome to browse the books while at the studio. You are welcome to sign out books to return within 2 weeks. Each book is colour coded for the deposit required to take it home. The deposit is based on the replacement value of the book. When you return the book, you will get your deposit back.
Please note that if you use our terminal for credit or debit to make the deposit. It takes between 4 - 9 business days for Square to refund your money. When paying cash for a deposit, we put your name attached to your money and hold it. When you return it, you get your money back.
You can pick up or return books during our open times only.
The book's deposits are Blue $5, Red $10, Green $20 and Yellow $25. Some books are autographed, so please treat my books with care.
Location
The studio is designed for the 'everyday' crocheter and knitter at heart. Most of the studio presentation uses everyday yarns which remains true to our love of yarn. Some products shown in The Crochet Crowd tutorials may be on display for viewing in person.
We may have some items for sale that are over-stock or things from our regular business of The Crochet Crowd. It's open at select times. In the future, we may have experts visit host workshop settings for a nominal fee for the course and workshop supplies. Stay tuned.
Other Local Stores to Get Yarn
We have four locations of yarn stores. For those who love independent brands, higher-end yarns and hand-dyed spun and more. Wool'n Tart downtown Wolfville and Gaspereau Valley Fibres are your places to shop. Wool'n Tart is within about 5 minutes from our location to the east. Gaspereau Valley is about 15 minutes away to the east. Both locations are the same owner. Community-focused with in-house gatherings as select times. Exquisite yarn and even some yarns that are made with their own fibres.
For Wolfville, a leisurely stroll along the historical and artisan feel street. For Gaspereau Valley Fibres, a destination location with the livestock onsite in their very tastefully decorated farm store. Immerse yourself in creativity.
Michaels Stores is also located within 5 minutes to the west in New Minas, Nova Scotia. Large yarn section to make all your yarn wishes come true. Focused on 'everyday' yarns with big brand names to select from. There is also a local Walmart in New Minas about 10 minutes away to the west.
Within our region, we have the best of both worlds of yarn desires. From the luxurious to the everyday. You have choices to select within your budget.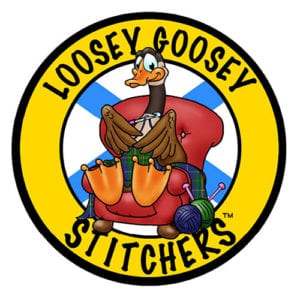 Local Group Meet-Up
The Crochet Crowd's local group is called the Loosey Goosey Stitchers of Nova Scotia. Playfully named as the Canadian Goose is part of us being Canadian. We are also casual so we are just hanging loose, sort of speak.
Meetups are scheduled as part of the open times. We have a private Loosey Goosey Stitchers Group on Facebook that is only for those who are planning to attend or are attending our stitch meet up. Local announcements and communications between members with show'n tell and more happen in this group. We are requesting anyone who is requesting to join the group at least attend the group so the group remains true to the participants in the group.
Pictures of The Crochet Crowd Studio