Crochet Infinity Cowl + Tutorial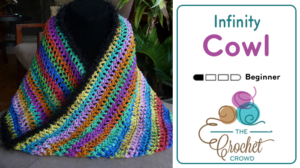 Crochet Infinity Cowl
by Michael Sellick, The Crochet Crowd
©2012
The Crochet Crowd
Distribution of this pattern is appreciated but please copy and post the link. Do not duplicate or charge for the usage of this pattern. You may create your own flowers and sell what you make but this pattern is to remain free. 
Needed Materials
Size 6.5 mm or K Size Crochet Hook
1 Ball of Bernat Mosaic Yarn Psychedelic Color. 1 Ball of Patons Allure or Eye Lash Based yarn for the trim. Patons Allure has been discontinued.
This project will measure 30″ in Circumference & 8″ wide.
Definitions
BEG = Beginning, CH = Chain, HDC = Half Double Crochet, ST – Stitch, SL ST = Slip Stitch, SC = Single Crochet, DC = Double Crochet, TR = Triple Crochet, 
Instructions
Chain 80, at the end ensure the chain isn't twisted up and attach to the BEG CH with a SL ST. DO NOT TURN.
Continue in the same direction, 1st stitch will be SC, 2nd will be HDC, then DC all the way back to the BEG CH.
Turn the work so it has a permanent 180 degree twist. You will begin to DC on the bottom side of the stitching. You will not see any stitches, just DC into the gap space. You will crochet continuously now around and around until you run out of yarn.
On the final 9 stitches, leave 3 feet of yarn. 3 HDC, then 3 SC, and THEN 3 SL ST.
Fasten off colour and add second eyelash yarn and SC around the perimeter.
Fasten Off and weave in the ends.
Video Tutorial