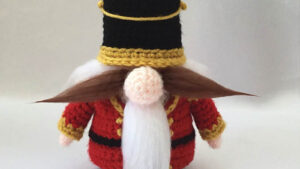 Crochet Nutcrackers are really cute and reusable decoration items for your holiday decor each year.
I've located patterns I would consider to be doable for me and something I would put in my own home.
Due to details, free patterns for this amount of detail required are very difficult to find. However, I looked below and I found an assortment of patterns that I believe are worthy of the purchase to help out the designers and you can be rewarded with amazing patterns too.
Crochet Nutcracker by Hooked On Patterns. The free outfit pattern fits over the Santa Gonk Pattern is a paid pattern picture is above.
FREE - Christmas Nutcracker Hat
Crochet Nutcracker Cylinder Looking by Honey Bunny Amgurumis - Paid Pattern
Crochet Nutracker and Friends Hanging Decorations by Crochet Gift Shop - Paid Pattern
Large Nutcracker Doll by Heather C Gibbs - Paid Pattern
The Nutcracker Doll by HeyCanYouCrochetMea - Paid Pattern
The Nutcracker Soldier by FrantsToys - Paid Pattern
Nutcracker Cuddler Pillow by Victoria Stewart - Paid Pattern
Nutcracker Stuffed Doll by Elisas Crochet - Paid Pattern
Tin Soldier by Aquariwool Crochet - Paid Pattern (really well done)
Nutcracker Wreath by Lisa Kingsley - Paid Pattern
Nutcracker Pants Gift Basket by Sonya Blackstone - Paid Pattern
Nutcracker by Lilia Shaevitch - Paid Pattern
Combo of Santa, Elf, Nutcracker, Viking and Eskimo Patterns by Aquaricrochet. Beautiful set that would go together.  - Paid Pattern
Pudgy Nutcracker by Bvoe - Paid Pattern
Toy Soldier Wreath by Yarnovations - Paid Pattern
More Ideas
Bonus Video
We free-formed 2 - 12 foot tall Crochet Nutcrackers. See how we did it.
More Collections