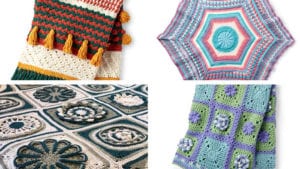 2019 - 4 Crochet Along Projects
2019 was a big year for the stitch along with project sizes. Two of the four Afghans were designed by Mikey. We started off with a blanket nicknamed the Flora Garden Afghan and launched the Flora Afghan in late spring. In summer, we had the next exploratory afghan called the Study of Planet Earth. We finished off the year with the Llama Blanket.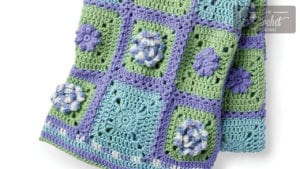 Crochet Flora Garden Afghan
The Spring Garden Afghan consists of 3 different types of granny squares. 1 square is flat, another is a small raised flower and the 3rd is a larger flower.
The design is put together using crochet zig-zag techniques to attach. Simply put, there's no sewing involved. Finally, there's an easy to do the border.


Crocheters really surprised me how beautiful they made this design. Over 2550 afghans were completed in this challenge. See the Entire Spring Garden Afghan Gallery.
Layout Opportunities
Click the picture below if you want to download the layout samples.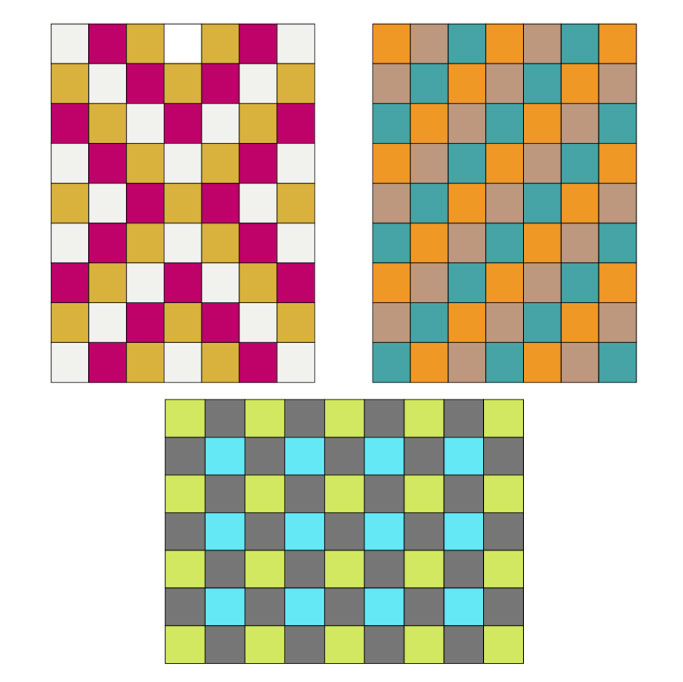 Full Crochet Tutorial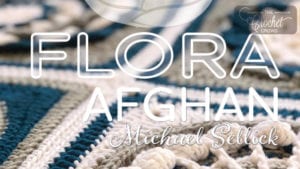 Crochet Flora Afghan
My Crochet Flora Afghan started in April 2019 with giving 1 square per month until October. Using 6 mm / J Hook with Caron One Pound Yarn this intermediate-level project is free for everyone.
The finished blanket in the 4 x 5 squares format is 62" x 76".
The final book is still in editing by Daniel. 


Available Free Downloads
Full Book with Pictures Up Until the Current Month. This has abbreviations key and specifics about the afghan. This is a very large file. The Book with the final Show'n Tell Pictures from the global crocheters won't be done until late November 2019. Plan on 35 MB of space for this book at this time.
Just The Patterns without Show'n Tell
This is a lighter version for quick download. This is a free booklet with just the details to make the squares. It is 20 pages detailing all pattern information. Download the Flora Afghan Just Patterns Edition. You can opt to print just the pages you need as there are page numbers on the booklet. It's free to view, download and/or print. This is 3 MB.
Over 280 of Full Size Afghans have been made. See the Full-Size Flora Afghan Samples Gallery. Just over 10 smaller size blankets were done for this, it's the Half Size Flora Afghan Gallery.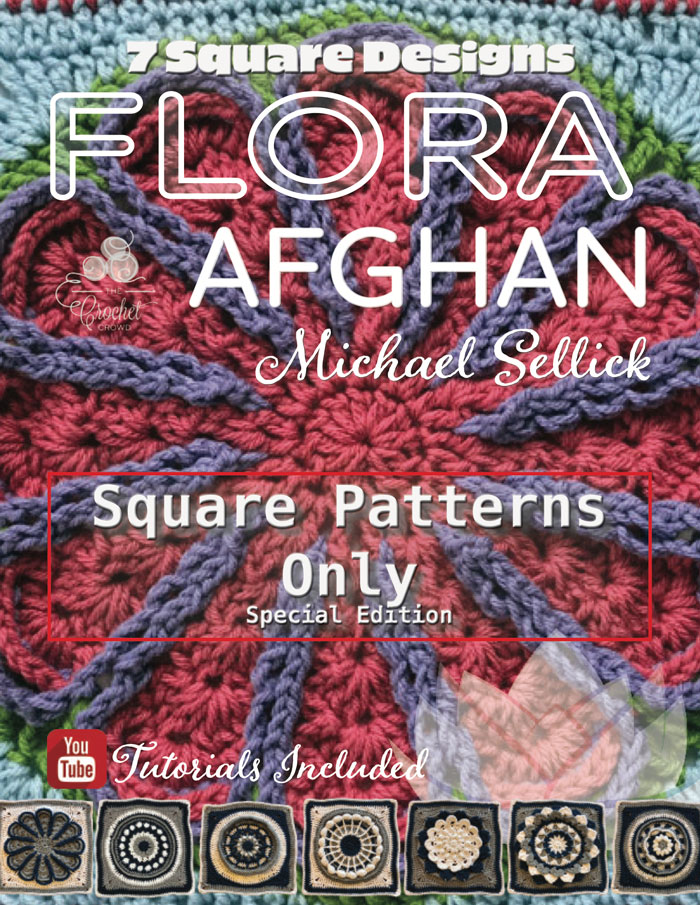 Playlist for All Tutorials for This Project
In watching crochet along of our past, there's a common thread of conversation in crocheters wanting more of a challenge. This concept started with a crocheter emailing me to have one of these shapes converted to a square. You can see it here on the right-hand side, middle square. There's a duplicate of the square on the upper left, 2nd one in.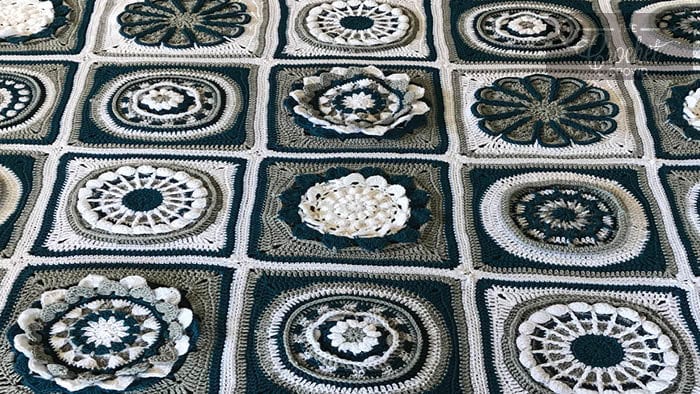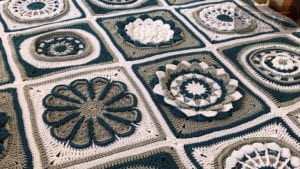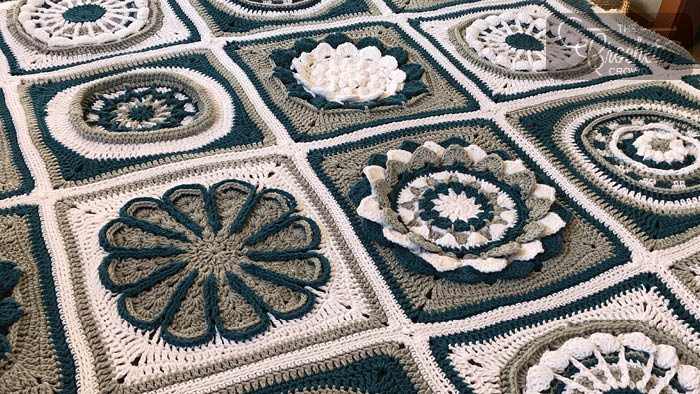 Self Creation
This afghan has 7 unique squares used. Due to each of the squares matching each other, size-wise, you can switch out the squares. I find with crocheters, I may not always hit the mark. This simply means that if you don't like one or more of the squares I designed, you can leave it out and fill it in with another square that you prefer more.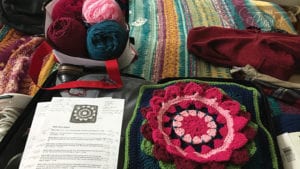 Back Story
After completing all of the designs. I was scheduled for a personal vacation. So I decided to take the Lilies in August Square with me. I did up one square sample to test my pattern and weigh the yarn so I knew how much to take with me.
With a goal to make an additional 19. I started to crochet at the airport. Between connecting flights and more, I was able to get comfortably started.
While on my 10-day vacation, during quiet times. I took my project with me. Whether I was sitting on a beach, deck chair or even lounge. Other passengers on holidays were taking mental notes and began to realize I was making something big.
I found passengers asking me about my project and as the days progressed, they were seeing how fast I was doing my project. I don't claim to be a fast crocheter. I do claim to be determined.
By 2nd last day, I laid my afghan on the carpet to get a bird's eye view of it. I whip stitched the afghan together and took it home.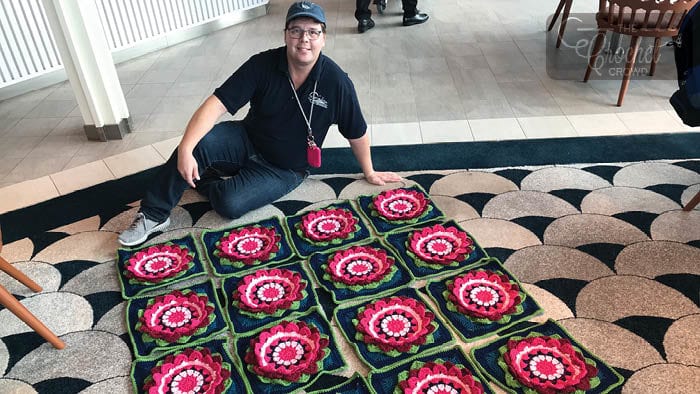 If you really like the Lilies in August blanket on its own. I know the ball colours and counts for Caron One Pound. They are as follows:
A - Dark Pink - 2 Balls

B - Soft Pink - 1  Ball

C - Ocean Blue - 1 Ball

D - Country Rose - 2 Balls

E - Midnight Blue - 2 Balls

F - Grass Green - 2 Balls
This square will be released in August if you couldn't tell by the name. The pattern is written based on 3 colours. If you see the picture below, you can see how I put the colours together.
Colours Used in Blue / White Sample
2 Balls Caron One Pound White
2 Balls Caron One Pound Ocean
2 Balls Caron One Pound Soft Gray Mix
The pattern is written where I have changed the colour in areas that made sense. You will see the conversion sheets to tell you how much yarn I used for each colour change in every square. This means you see my colourful example, that is using 5 colours, you can do the same thing or even use more colours. I gave you the yardages to be able to strategically plan your project.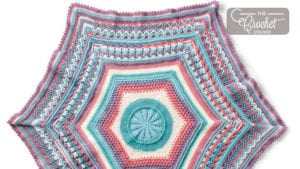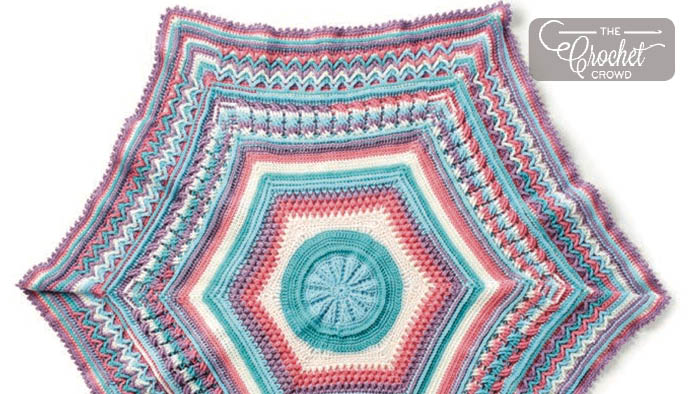 Crochet Study of Planet Earth
To go with the 2018 Study of Texture Afghan, this afghan was created to sister with it as a different set of textures and shapes. It challenged many, including myself. Throughout the summer, we worked on the course together. By Labour Day, we had finished it.
This summer, the concept is originating from a circle to a hexagonal concept. With stitches to learn and watch grow throughout the summer.


Like before, we have a theme and it is The Study of Planet Earth. Timed with a message about the inner core to the mantle to the crust and more. With the human impact on this beautiful marble, we call home.
Over 900 samples of this afghan have been made by stitchers. See the Study of Planet Earth Gallery.
Afghan Details
The afghan is 48" across the flat edges.
The afghan will be presented over 7 weeks.
Playlist of All Tutorials for this Project
Earth Fun Facts
Planet Earth is the third planet from the sun. It's unique to our solar system to support our lifeforms relying on oxygen and water. It is the 5th largest planet and has a unique tilt of 23.4 degrees creating our seasons. Earth has a wobble that changes the direct light of our sun within a 365 cycle around the sun. It favours the north for 6 months and then the south for 6 months. It gives the cycle of Spring, Summer, Fall and Winter to most of us not residing at the equator. The wobble assists in creating our wind with the oceans and land temperatures changing.
Testing Samples
My pattern was tested by Wendy, Diane, Anita, Donna, Michele and triple-tested by me. Also review intensely by Svetlana, Yarnspirations Design Team. Unfortunately, we may have overlooked mistakes but are aiming for 100% accuracy.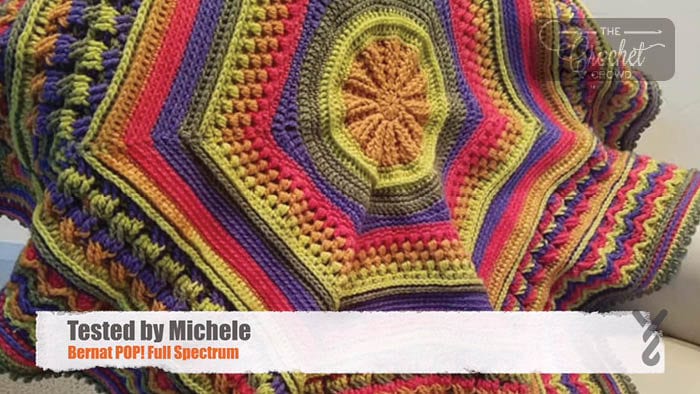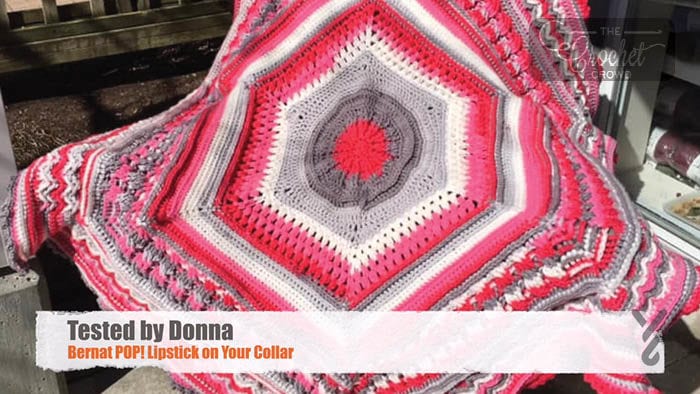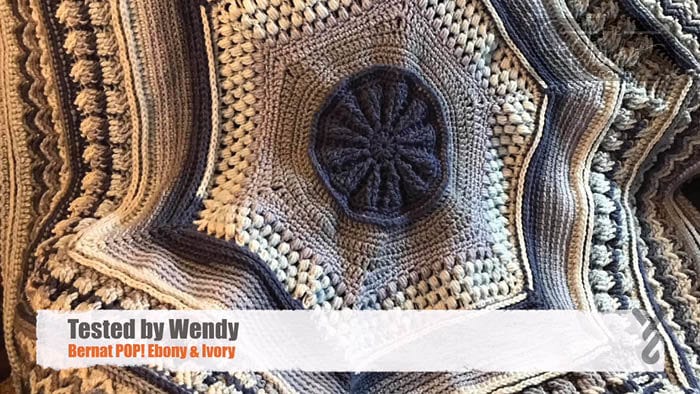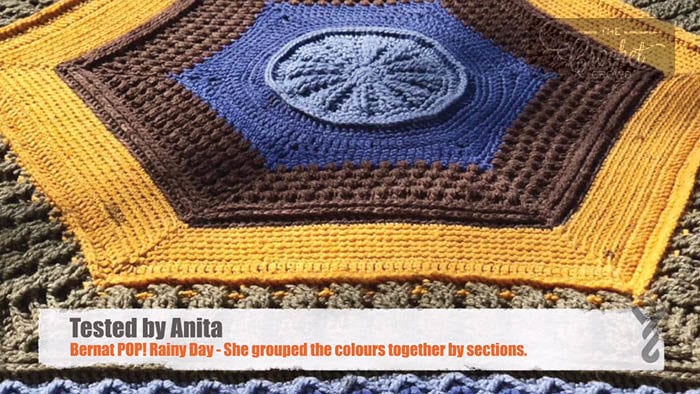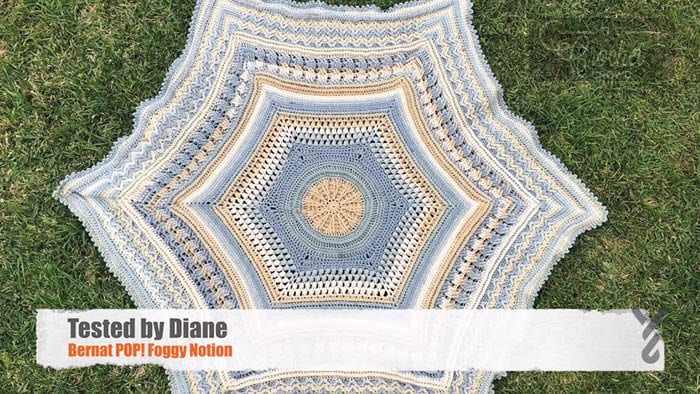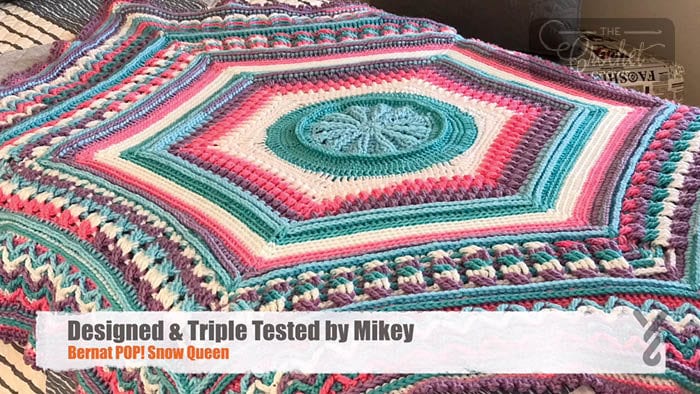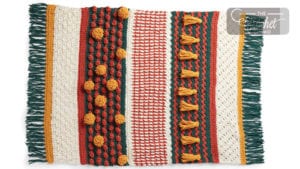 Crochet Llama Blanket
The Crochet Festive Texture Afghan is the next stitch along with our friends at JOANN.com. This afghan is bold, bright and ready for a party. It's called the Crochet Festive Afgan.
It resembles the blanket that you would see on the back of a Llama. That's why pom-poms and tassels were added to the blanket. As a creator's choice, you can leave them off if you wish.


For the first time, we are not hiding what the afghan looks like. The afghan is a stitch sampler. Designed by Yarnspirations. The designer lives in Ottawa, Ontario Canada. You may have seen her work already.
Over 80 samples of this afghan have been made. See the Entire Gallery of the Llama Blanket by stitchers.
Tutorials
All videos are closed captioned and available in right and left-hand versions.
Playlist of All Tutorials for this Project
Pattern Suggestions
More Stitch Alongs