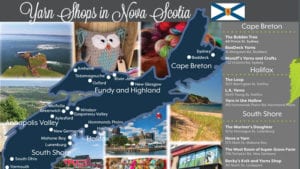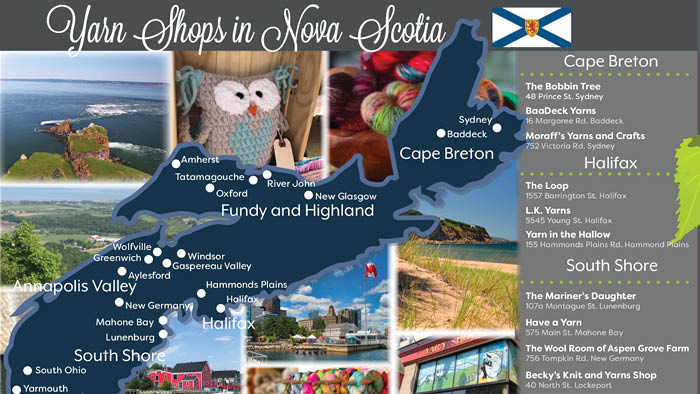 39 Yarn Shops of Nova Scotia
Are you looking for all of the Yarn Shops in Nova Scotia while visiting? Finding fabulous yarn stores may be harder to locate as they may be tucked in tourist towns or off the beaten track in the cities.
Updated June 30, 2023 with the latest information. Links, where available, are provided for each location. Please check their hours of operation.
Michaels Stores and Walmart exist in various places in Nova Scotia and are generally easy to find through Google Maps. Our goal was to locate the names of the stores and provide their address so you can find them too. Follow the Yarn Tales in Nova Scotia.
As a general note: Check these stores' websites or social media posts if you are unsure of open times. With Nova Scotia being a small province, visiting many little yarn stores daily is possible.
All store information was accurate at the time of producing this document.
Please don't drop in at The Crochet Crowd without an appointment. We are not open to the public and Mikey may be filming.
Locations of Stores where Yarn is the Primary Focus
You will find yarn in stores like Walmart and other places where yarn is an option but not a primary focus. Tracy's Rolling Yarn Shop travels throughout Nova Scotia. Their Facebook is constantly updated for locations that are planned. From the port to meet cruise ships to other far-reaching corners of Nova Scotia.
The Crochet Crowd in Greenwich, Nova Scotia. Not open to the public.
Tap Root Fibre Lab - Greenwich, Nova Scotia. Yarn is available next door if this is closed at Noggins Corners in the same parking lot.
Wool 'n Tart Yarn Store in Wolfville, Nova Scotia
Gaspereau Valley Fibres in Gaspereau, Nova Scotia
Becky's Knit and Yarn Shop in Lockeport, Nova Scotia
L K Yarns in Halifax, Nova Scotia
The Loop in Halifax, Nova Scotia
Yarn in The Hollow - Hammonds Plains, Nova Scotia
The Wool Room at Aspen Grove Farm in New Germany, Nova Scotia
The Mariner's Daughter in Lunenburg, Nova Scotia
Moose River Rug Hooking Studio in Clementsport, Nova Scotia
Deanne Fitzpatrick Rug Hooking Studio in Amherst, Nova Scotia
Lismore Sheep Farm and Wool Shop in River John, Nova Scotia
Yarn and Company in Tatamagouche, Nova Scotia
Sisterhood Fibres in Tatamagouche, Nova Scotia
GJDR Enterprise LTD in Oxford, Nova Scotia
DeWeaver's Wovens - Aylesford, Nova Scotia
The Bobbin Tree in Sydney, Nova Scotia
Moraff's Yarns and Crafts in Sydney, Nova Scotia
Green Sheep Fibres - South Ohio, Nova Scotia
Heidi Wulfraat Woolworks Studio in Mahone Bay, Nova Scotia
Flora's Gift Shop on The Cabot Trail in Cheticamp, Nova Scotia
Erin's Hooked On Yarn in Port La Tour, Nova Scotia
Natural Ewe Yarns - Pictou, Nova Scotia.
Wools on The Corner - Bridgetown, Nova Scotia
The Violet Unicorn - Eastern Passage, Nova Scotia
Needle and Wool Company - Port Hawkesbury, Nova Scotia
Antigo Knits - Antigonish, Nova Scotia
Generation Craft Supplies - Shubencadie, Nova Scotia
Fia Fia Knitting and Yarns - Halifax, Nova Scotia
Gwen's Handmade Creations - Salmon River (near Truro), Nova Scotia
Big Box Retailers Specializing in Yarn
Recommended Places to Eat in and around Wolfville, Nova Scotia
---
Things Creative and Tourist Based in the Annapolis Valley
Recommended Places to Stay in and Around Wolfville, Nova Scotia
All recommendations are based on personal experience or feedback.