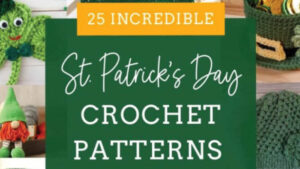 Find the luck of the Irish in this cute round-up of 25 Crochet St Patricks Day Patterns by Jo to the World. A Nova Scotian Blogger.
Jo really has an eye for the absurd in ideas but makes me put a huge smile on my face! Like who doesn't want Beer Socks! BEER SOCKS! Are you kidding me! How fun are those! 
From photo props for babies and even dogs! To the iconic Leprechaun Gonk! A champagne glass hold that goes around your neck so you can socialize and carry your drink!
Don't spill that on your outfit! If you get too tipsy, kiss the white carpet or sofa goodbye in advance!
From beer can cozies to hats and cowls to the ever adorable Seamus Shamrock! I need one of those for my office just because hey what the hell, it's St Patricks Day!
More Ideas

More St Patricks Day Patterns