Crochet Blanket Idea Patterns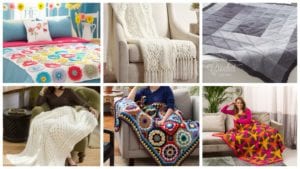 It's that time of year when people are planning weddings, and we start planning wedding gifts. Blankets are a wonderful and cherished go to. I received a blanket for a wedding gift before I know how to crochet, and it's still my favourite I even hunted down yarn that was the same colour and made another one so that I could have a matching one on the couch and chair, pretty sure though that both have been smuggled into the kid's rooms for their blanket forts.
This collection is a few suggestions I found and really liked blankets to make up for gifts, I have 3 weddings my self to get prepared for, One I already have mentally planned and started, the other two was the reason for this collection I also see there being one I make for myself, it's so pretty.
---
Crochet Irish Lace Afghan Pattern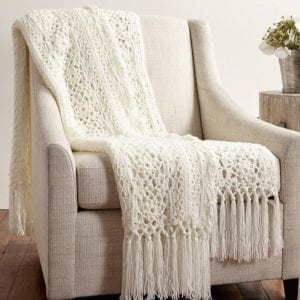 This is a great wedding gift pattern, made up in a solid colour, it will easily fit any decor. The Irish Lace Afghan Pattern is such an intricate-looking blanket they will think you took hours perfecting this beautiful gift, of course, we won't tell them the difference. The Irish Lace Afghan will make a wonderful gift for any occasion that pops up, or if you simply just want something delicate for your self. Any reason is a perfect reason for blankets!
The Crochet Irish Lace Afghan Pattern was made using Patons Canadiana you could easily use any worsted weight yarn in any colour you like, it will look beautiful in any colour you decide to work this pattern up in.

Crochet Modern Squares Throw Pattern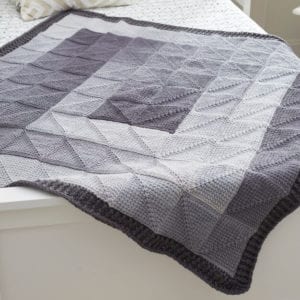 I love this throw, and not going to lie it's probably one I'm going to attempt for myself, I'm not even going to try to fool myself into thinking I'd make it with hopes of it being a wedding gift, I'm skipping that mind game entirely, this Crochet Modern Squares Throw pattern, for those of you who aren't me and unable to part with this one, would make a wonderful gift.
This Crochet Modern Squares Throw Pattern was Designed by Brenda-Leigh Bennett using Red Heart Ombre for the body of the throw and Red Heart Super Saver for the border. I am obsessed with the Ombre yarn I have used it for a few projects, and I absolutely love how it works up. There are a few different Ombre colours to choose from and it will look amazing in any of them. I'd love to see photos of and of the other colours worked up in this project from those of you who make this pattern!!

Crochet Lattice Weave Throw Pattern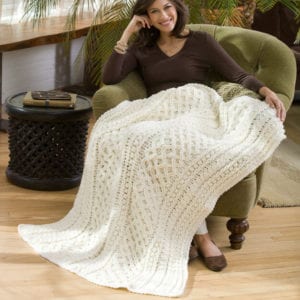 This Lattice Weave Throw Pattern is absolutely beautiful, it will make a beautiful wedding or anniversary gift, personally, at the end of the last round, I would start the first round again and make it twice as wide instead of the single width. The detail and texture in this throw make it stunning, this is definitely one that would be cherished for a lifetime. I mean really any that we make would be of course, because we are all awesome.
The Crochet Lattice Weave Throw Pattern was Designed by Mary Jane Protus, you can make this pattern using either Red Heart Super Saver, or Red Heart Super Saver Jumbo it would be neat to see this worked up in different colours the fun you could have with this one!

Crochet Boomerang Throw Pattern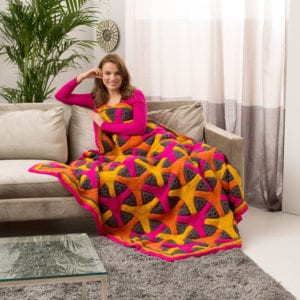 This blanket is a bit more unique than the others with its fun design colours. You can really play with colours giving this Boomerang Throw Pattern a different feel depending on the colours you choose, If I were to make this blanket I would likely go with shades of blue with white as the accent colour. Or try it with a couple of different colours of the Ombre to see what happens. Or use an Ombre for the triangles, and pick different shades for the boomerang that go with whichever Ombre. Ok, now I'm curious!
This Crochet Boomerang Throw Pattern was Designed by Linda Dean made using Red Heart Super Saver, there are so many colours to play with. This is one it would be really fun to see what other colour combinations you all can come up with.

Crochet Colourful Cogs Afghan And Pillow Pattern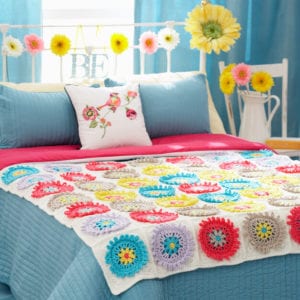 Looking for something a little different? This Crochet Colorful Cogs Afghan And Pillow Pattern is really bright and cheery if springtime were a blanket pretty sure this would be it. If you have a spring wedding coming up and you're looking for a pattern that fits, this would definitely be the one to go with. Where the pattern is done in squares it can easily be made in any size you feel like making it. The Colorful Cogs Afghan And Pillow would also make a great gift to yourself, or anyone who has a springtime birthday.
This Colorful Cogs Afghan And Pillow Pattern were made using Red Heart Super Value, you could easily use Red Heart Super Saver, the last time I was out not actually looking to buy yarn but just taking a stroll through the yarn aisle, as one often does (or so I tell my husband) I saw some really pretty new colours out that would be beautiful in this blanket.

Crochet In Love With Colour Throw Pattern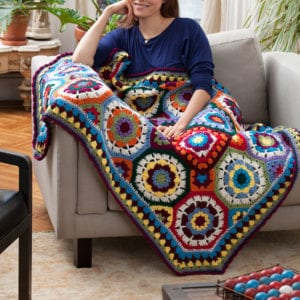 This is one I picked for one of the other wedding gifts that I need for this summer. The Crochet In Love with Color Throw Pattern is one that I know I will really enjoy working up, I love the granny in all it's forms, and learning new ways to use them gets me pretty excited. This Throw Pattern would also be a great project to use up any yarn ends you have leftover, I know I have quite a few myself in this blanket it would really work well.
This Crochet In Love With Colour Throw Pattern was Designed by Jessie Rayot made using Red Heart With Love. You can really play with your choice of colours, mix solids with variegated, have fun with this pattern.

Pattern Suggestions
More Crochet Afghan Pattern Ideas