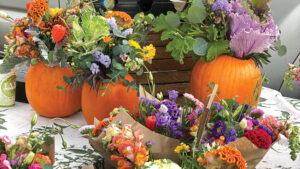 Here in Nova Scotia, especially in the Annapolis Valley where we live, the farmer's markets are the place to be. Within a few minutes of our home, there are 6 permanent locations where we can score mostly locally grown produce and some of them import out-of-season fruits and veggies as well.
From fresh vegetables, fruits, meats, flowers and baked goods. We usually grab breakfast or lunch that is from local ingredients. Most of our grocery shopping is done at the local markets and once every 5 weeks we visit the Atlantic Super Store for chain grocery store shopping.
---
15 Crochet Patterns
This round-up is inspired by the farmer's markets. Some of the projects have matching tutorials that are also linked in.
Farmer's Market Basket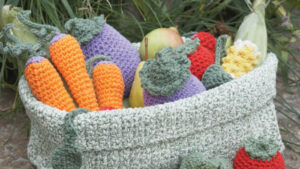 This fantastic pattern includes all of the vegetables you see. The pattern includes the tomato, carrot, corn cob, eggplant and radish.
The veggies can be great play items to teach the value of healthy eating or can be just fun decor for your living spaces. Yarn suggested is Lily Sugar'n Cream.


---
Large Apple Footrest Pouf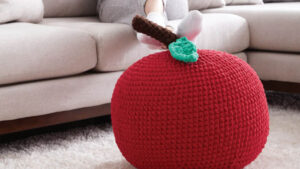 Whimsical and home decor oriented is this Crochet Large Apple Pouf.
Large format in Bernat Blanket  combined with Bernat Softee Chunky. It is two strands held together as one for the absolute solid nature of this application.
It's a neat item and unique in this genre. Basically, unexpected.

---
Crochet Apple Blanket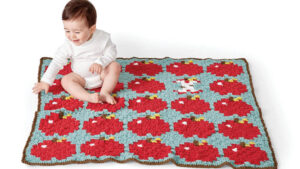 The Crochet Apple Blanket is using the corner to corner aka C2C concept to put the apples right into the project.
The free pattern includes the diagram as this is a one-piece project that is done in corner to corner grapghan work.

Understanding Graphghans and Charts
The tutorial will show you how to make graphs, follow them and stitching techniques to carry yarn or change yarn colours.
---
Apple A Day Dishcloths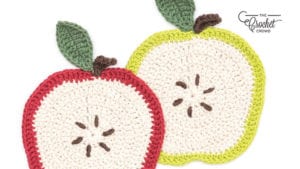 A popular dishcloth that is really more for doing those small touches of home decor or your kitchen.
The Crochet Apple A Day Dishcloth is pretty easy generally.
Some added touches with embroidery for the seeds but you can leave that off if it's a deal-breaker.
We have a tutorial on this to assist you.

Tutorial
---
Crochet Apple Wreath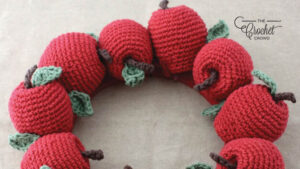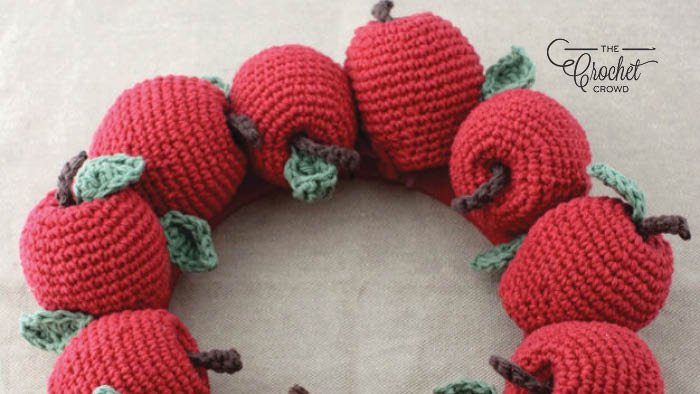 The Crochet Apple Wreath is perfect for home decor, potentially for the fall.
The apples are pretty easy to make and a bit of finishing touches can sink the apple inwards for the look.
Adding a simple leaf and stem. You can position these in a wreath like you see or add in extra things.

Tutorial
Only available in right-handed.
---
Canning Jar Tops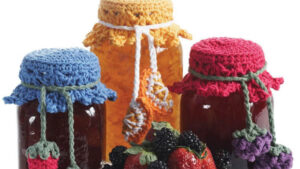 The Crochet Canning Jar Tops are intended to be the final touches of giving away something that has a personal flavour to it.
The tops are quick and easy to make and you can use the free pattern to finish it off with ties that include grapes, citrus or strawberries.

---
Cherry Pie Hot Pad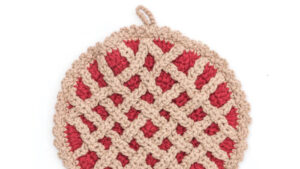 This is a really cool project or should I say hot? There's more to this than you may realize. This is the Crochet Cherry Hot Pad pattern.
This is double layered to prevent your table from hot casserole dishes from hitting the tabletop surfaces directly.
The handmade-looking dough woven stripes are easy to make and easy to secure into position. Super cute for festive times like Thanksgiving, Christmas or Easter to name a few.

Tutorial
Only available in right hand.
---
What's For Breakfast Pot Holders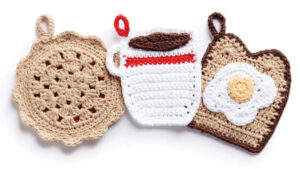 The Crochet Pie, Egg with Toast and Cup of Coffee are pot holders. Of course, always use caution when touching hot surfaces.
The toast and pie are double layered with the cotton yarn to keep the heat away from you hands more. The pie has a layer that is red in colour to represent cherry pie but you can change the colour to be reflective of other types of flavours too.

Tutorials
Only available in right hand.
---
Mixed Berry Tarts Afghan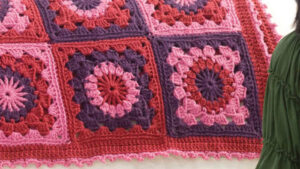 An inviting colour possibly for spring and fall depending on your perspective. This is the Crochet Mixed Berry Tarts Throw.
There is a suggested colour layout in this blanket and a diagram of the layout is available to help you.

---
Grab A Dog While You're At It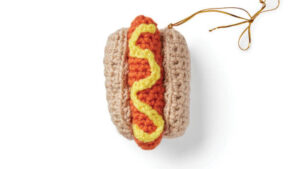 The food vendors at the market tend to make the market more savoury. The smelled of the grilled vegetables, meats and whatever is being made is in the air. This is a crochet miniature hot dog ornament.

We have another round-up of 11 Ridiculously Cute Ornaments where there are more mini food ornaments like a hamburger, taco, donut, pop, pizza and more.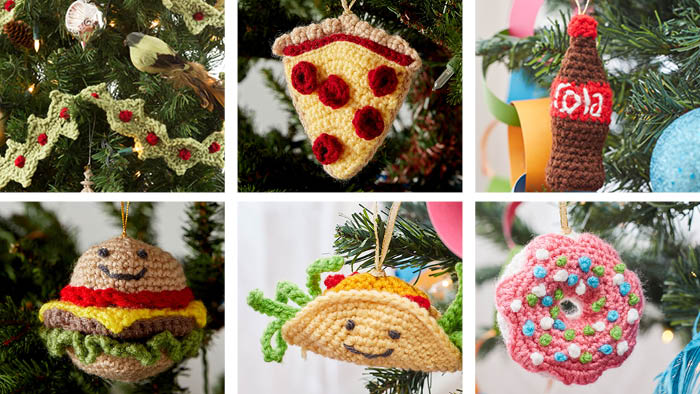 ---
Fried Eggs Dish Scrubby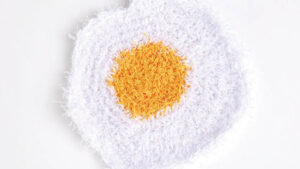 Whether you are grabbing your fresh eggs or fried eggs from a food vendor, this is a fried egg meant to scrub your dishes. This is the Crochet Fried Egg Scrubby.
Perfect little scrubby for taking care of the kitchen or bathroom cleaning. I love using these types of scrubbers for my cleaning.

---
Wrap It Up To Go, Please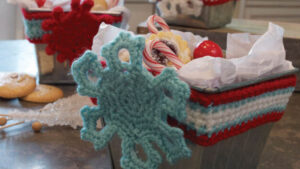 The market has vendors where finishing touches are handmade. From woodworking, fabrics to the yarn arts. Some items are meant to grab and you can take home to enjoy for yourself or give away.
The tin-wrapped gift ideas allow you to buy things that are reusable and just make a band for them. The bands can be reused over and over.

We also have another pattern called the Sweet Treat Wrappers which are almost identical with a few minor changes. Of course, you can customize the band to whatever you are needing to wrap.
The Sweet Treat Version is part of our 14 Crochet Snowflakes Patterns. You can learn how to stiffen up your snowflakes.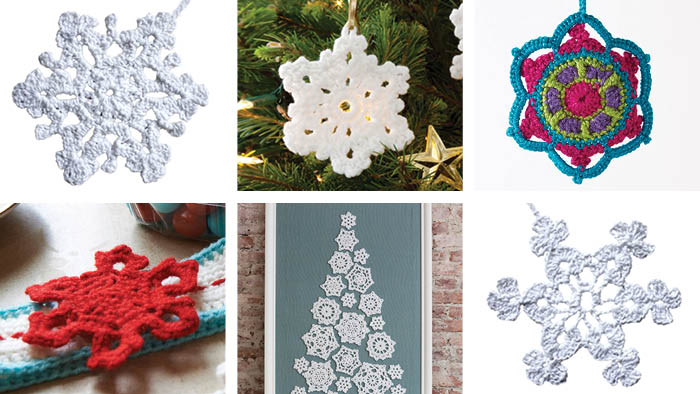 Tutorial
Right hand only.
---
Tapestry Flower Pot Cozies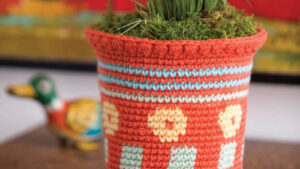 The Tapestry Flower Pot Cozies are just bright and playful in approach.
Possibly something you would find at someone's craft table or accessorizing a home plant floral vendor's table.

---
Don't be Too Cheeky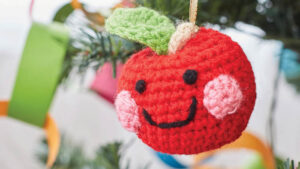 The Crochet Cheeky Apple Ornaments are super adorable.
You could add to a tree for ornaments or maybe even make one for you or your child's favourite teacher in appreciation for this service.

---
Another Flower To Enjoy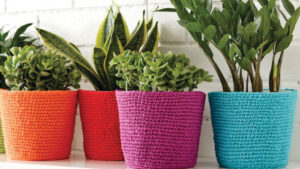 The Simple Flower Pot Cozies are intended to soften a living space which can be applied with bright colours or muted into the neutral colour ranges.
You can start decorating immediately and work on these while you are resting or just plan ahead.

Tutorial
---
Rose Pot Holder and Dishcloth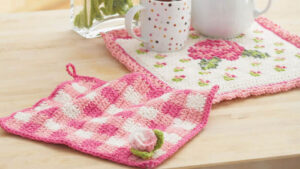 This pattern includes the Rose Pot Holder and Dishcloth.
The embroidery is on the fancy-looking one. The pattern includes the charging to do the cross stitching if that suits your fancy.

The roses that are shown with this are a separate pattern. It's the Crochet Rose Bouquet. There is a full rose and a budding rose in the pattern. In our first book coming out in Fall 2021, you will see these roses near the front of the book page candy.

Tutorial
---
Tip Toe Through the Tulips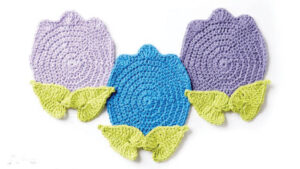 The Crochet Tulips Dishcloths are intended for practical and ornamental use for your home kitchen decorations.
Make sure you use 100% cotton like Lily Sugar'n Cream because anything acrylic or wool-based will be ruined the first time. Stick with cotton for your kitchen needs.

---
Grapes Dishcloth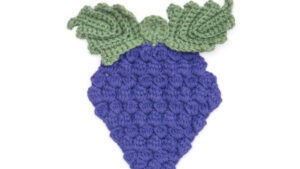 A great excuse to say just because you can crochet it, it means to go for it and don't limit yourself to what always makes sense.
The Crochet Grapes Dishcloth fits a great category for decorating your kitchen with a bit of uniqueness and fun flavour.

---
No 'Whining Now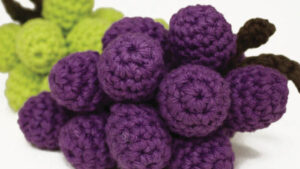 Maybe something for your tabletop in a bowl where it never goes bad. These are the Crochet Bunches of Grapes.
Cute and accurately depicted and achievable with your crochet hook. Each bunch has 15 grapes attached to a stem.

---
Sock It To Ya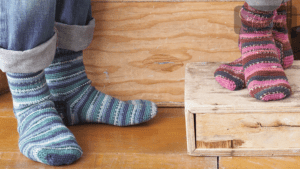 The Crochet Family of Socks is nearly a beginner level for sock making. For myself, I find it easier to make socks from the toe going up the foot to the calf.
Some vendors are crocheters or knitters that have handmade socks ready for you to take home with you.
The tutorial for this pattern is provided below.

Tutorial
In right hand only.
---
Crochet Fall Wreath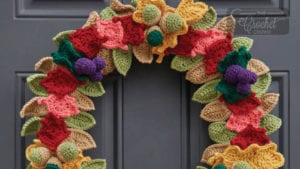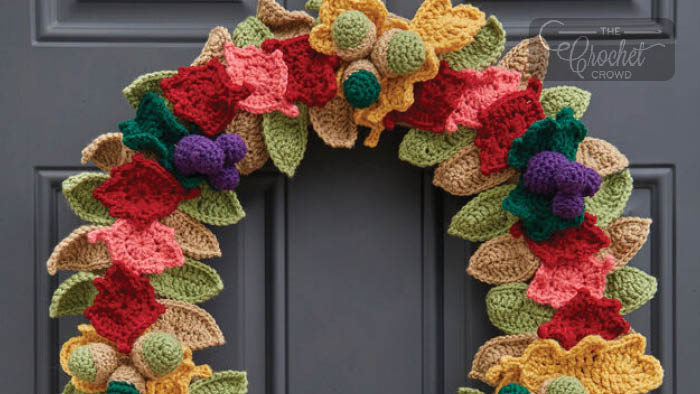 The Crochet Fall Wreath is a really cute and multiple of fall items like nuts, grapes and leaves.
You can be creative to add more things if you see fit.
We have tutorials for each of the components of this wreath.

Tutorials
More Collections