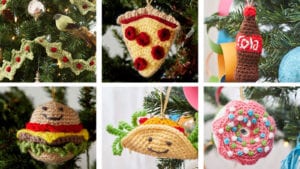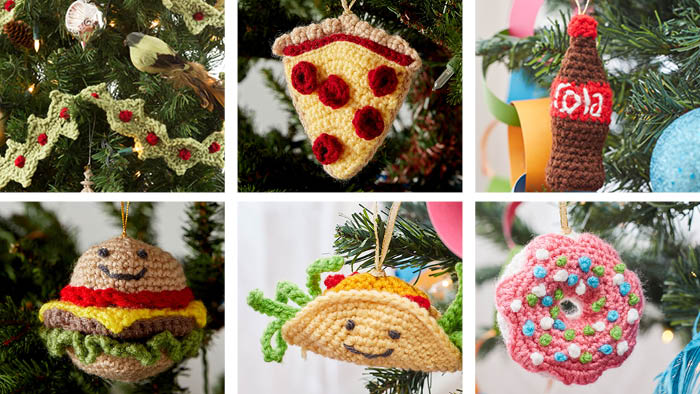 11 Ridiculously Cute Crochet Ornaments
We have a really uber-cute collection of ornaments that are food-based for the Christmas Tree. Christmas has certainly changed since I was a child. Christmas trees can be themed in virtually anything today.
Daniel and I have two pencil-shaped Christmas Trees. One is decorated in nordic theming while the other is more plaid and forest themes.
In the craft stores, we see really fun ideas of themes but sometimes I think we are missing the element of being truly homemade as well. The Crochet Christmas Ball Collection has multiple project ideas for those who prefer a more traditional look to Christmas. Many of the Chrismas Balls in the collection have matching video tutorials too.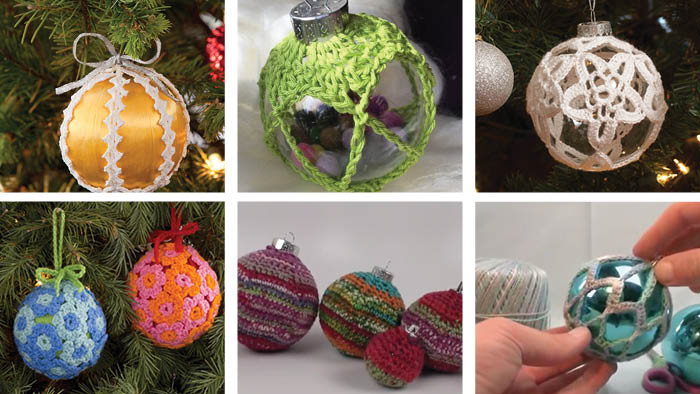 Christmas Music
The Crochet Crowd Collection with our licencing partnership to create this series. I love to listen to music as I crochet or work. Wishing you the best of this festive season.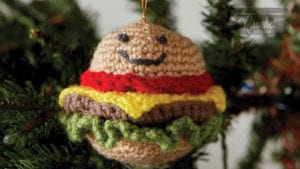 Crochet Happy Hamburger Ornament
Nothing makes me happier than a delicious hamburger until now, this Crochet Happy Hamburger Ornament makes me want to smile in all its little cuteness. Michele Wilcox designed this adorable little Happy Hamburger Ornament using Red Heart Super Saver, great for the Christmas tree or create it along with her other food ornaments for your little ones to play restaurant with.
So whether you love McDonalds, Wendy's, Burger King, A & W or other hamburger joints, this little keepsake can be just plain fun!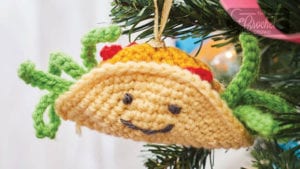 Crochet Tasty Taco Ornament
Everything about this Crochet Tasty Taco Ornament is adorable. Accompanied with the other fun food ornaments brought to you from Yarnspirations and designed by Michele Wilcox your tree will be a feast for the eye this year. Made using Red Heart Super Saver these Crochet Tasty Taco Ornaments will be a hit this craft show season.
This little ornament makes me smile, a lot. Myself, I prefer fajitas but this will do nicely.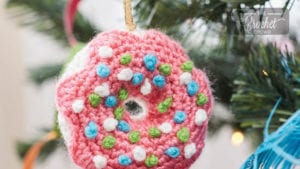 Crochet Dangling Donut Ornament
I can't get enough of Michele Wilcox's food ornaments she has been designing this Crochet Dangling Donut Ornament is one of my favourites. The Crochet Dangling Donut Ornament is made using Red Heart Super Saver. The Dangling Donut Ornament accompanied by Michele's other food design could also be used for those kids who like to play a restaurant without the ribbon you have a full menu. Make this fun Dangling Donut Ornament in the flavour of your choice.
My friend, Nancy, made me a crochet donut, like this, for my computer bag for a luggage tag identifier. It was pretty darling. So don't get trapped thinking this is just for Christmas.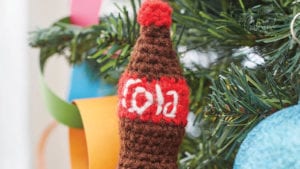 Crochet Cola Ornament
I don't know about you but I adore this Crochet Bottle Of Cola Ornament it's right up my alley. Yarnspirations has a fun collection of food ornaments to make this Holiday season for your tree I'm loving it. Michele Wilcox designed this easy to make Bottle of Cola Ornament using Red Heart Super Saver.
I will admit that I am addicted to Coca Cola. I love the taste, the fizz. I've been trying to switch to soda water and having success to reduce the sugar but a bottle of Coca Cola hits the spot every time.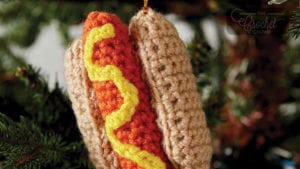 Crochet Hot Dog Ornament
To all the Hot Dog lovers out there, this Crochet Hot Dog Ornament is a fun decoration for the tree this year. Michele Wilcox designed a feast of ornaments and each one is just as fun as the next this Hot Dog Ornament is no exception. Made with Red Heart Super save add some mustard or ketchup and add this Hot Dog Ornament to your tree.
We also have a lifesize version for children in this category called the Crochet Hot Doggin Snuggle Sack. Of all of the snuggle sacks, this one makes me laugh the most… of course, a Hot Dog Snuggle Sack called the Hot Doggin'! Hot dogs remind me of baseball or sporting events more than anything. "Hot Dogs… Get Your Footlong Hot Dogs!" as the vendor walk up and down the bleachers. These hot dogs though are more than a foot long!
On my hot dogs I prefer just ketchup, nothing else but Daniel insists on wrecking my hot dogs with mustard, relish, onions and cheese. I know, first world problems!
Tutorial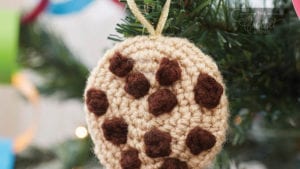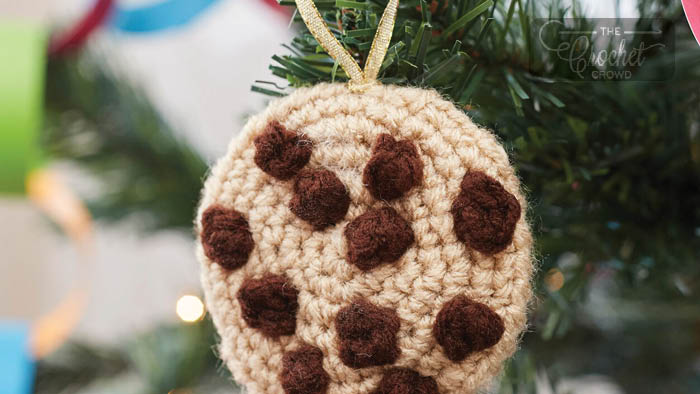 Crochet Chocolate Chip Cookie Ornament
Do you know a baker or love to bake yourself if so this Crochet Chocolate Chunk Cookie Ornament is a perfect ornament for you to crochet? Designed by Michele Wilcox using Red Heart Super Saver this cute little Chocolate Chunk Cookie is an easy little project and great for the cookie lover in your life. The Chocolate Chunk Cookie Ornament will look great with the other food ornaments designed by Michele for the perfect food-themed tree this season.
The crochet cookie is only 3.75″ inches. This would make for a great bag tag ornament too.
Tutorial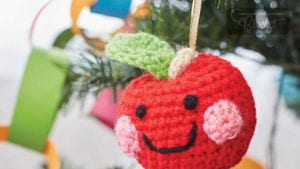 Crochet Cheeky Apple Ornament
If your trying to figure out the perfect teacher's gift this year for the teachers in your life for Christmas this Crochet Cheeky Apple Ornament is it. Designed by Michele Wilcox using Red Heart Super Saver this Crochet Cheeky Apple Ornament is so adorable and such an easy project to make up.
We live in the Annapolis Valley of Nova Scotia. We live in the heart of the fruit and vegetable growing region. In fact, Daniel and I are surrounded by apple, peach, and pears orchards. We also have a tourist destination within a few yards down the road called Noggins Farm. It is a fabulous place to get fresh veggies and fruits but also a place in the autumn that really celebrates the harvest with an incredible corn maze and what seems like 1000's and 1000's of pumpkins and so much more.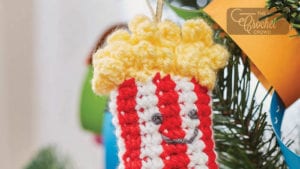 Crochet Popcorn Ornament
Every year I give the kids an ornament for the tree something my grandmother did for me for as long as I can remember, this year I know what one it's going to be! My kids love popcorn so this Bag Of Popcorn Ornament is an absolutely perfect ornament to add to the tree this year. Designed by Michele Wilcox using Red Heart Super Saver this Bag Of Popcorn Ornament is a must for your tree. Using the single crochet this Bag Of Popcorn Ornament is really easy.
Believe it or not, I just learned 2 weeks ago how to make popcorn on an oven with a pot. My mother used to make it back before the Microwave Versions and it always tasted burnt. Daniel showed me how to do it without the burn. Diet is a 4 letter word! Eh! 
We also have a lifesize version for kids and grownups for the Crochet Popcorn Box Snuggle Sack. I made an adult one size for myself. I improvised on the label of the box to bold it up a bit more and added more kernels. Daniel's Hot Dog costume is exactly as written in the pattern. Both are sewn in a way to be wearable. Who says kids are the only ones that can enjoy something like this?
The tutorial is below on doing the Lifesize Popcorn Box.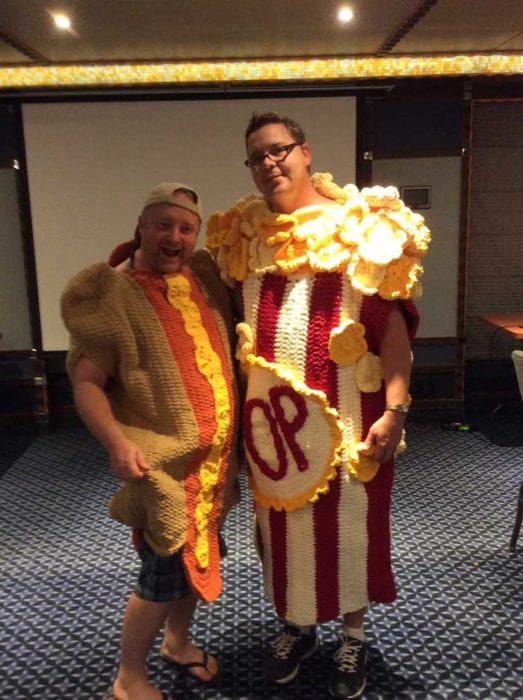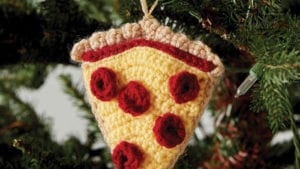 Crochet Pizza Slice Ornament
How cute is this Crochet Slice Of Pizza Ornament! With the magic of a single crochet, you can make this fun Crochet Slice Of Pizza Ornament using Red Heart Super Saver. This Slice Of Pizza Ornament is super easy and so much fun along with all the other fun food ornaments you can find on Yarnspirations, work them all up and have a fun food-filled Holiday!
This make you smile ornament is 4.5 long. For a family, you may have to decorate your pizza slices to be unique depending on which flavours you love the best. Improvise and add your own toppings.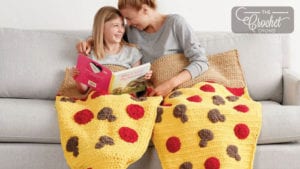 If you prefer lifesize, there is also the Pizza Slice Snuggle Sack that is sized for children and adults too.
This super cute Crochet Pizza Snuggle Sack is the only version of the snuggle sacks that come in adult sizes. Of course, the adult version will take longer and use more yarn. Of all of the snuggle sacks, this one is also the favourite of the design team for Yarnspirations. Most of the design team are mothers and can see themselves having fun on pizza night with their children with this version.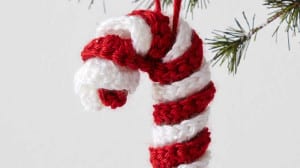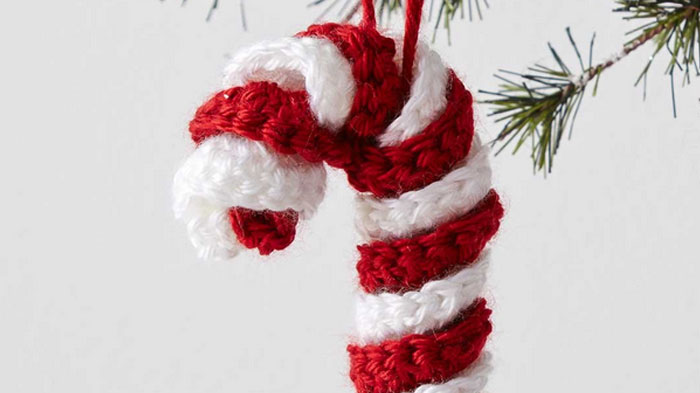 Crochet Candy Cane Ornament
It's simple and for beginners of crochet, it's the Crochet Candy Cane Ornament.
This simple ornament is just one simple chain of 40 with 3 double crochets worked into each chain. The adding of the 3 double crochets in each chain forces the chain to automatically coil. You need to create two coils, one in red and one in white.
Once you are completed the coils, you wrapped them with each other and they hold onto each other due to the twisted coil. Simply attach a hanging strand and position it in the right position to give the iconic look of the top of the Candy Cane.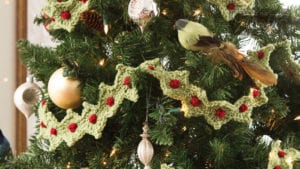 Christmas Garland
I was really inspired by this easy to do Christmas Crochet Garland. Designed by Bonnie Barker for Red Heart Yarns. I really appreciate the idea of having a reusable decoration that is handmade and meaningful. Sparkle garland, once it is stored, can appear crushed. This garland can be folded.
The pattern is a multiple 6+2 repeats. The garland stretch is 38″ are which is just over 3 feet. I have done some research and experts say that for every 1 foot of height for a traditional Christmas tree that 9 feet per foot are required.
If you prefer to have longer stretches of continuous garland, I have worked out the math to be as follows:
5-foot tree = Chain 1,802 = 45 feet
6-foot tree = Chain 2,162 = 54 feet
7-foot tree = Chain 2522 = 63 feet
8-foot tree = Chain 2882 = 72 feet
If you need extra help, the tutorial is below.
Tutorial
More Christmas Ideas