Crochet Snazz It Up With Doily Patterns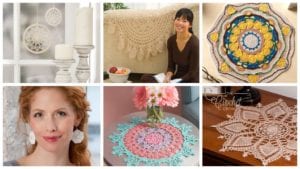 Every now and then I like to question my ability to see, or as I fondly think if it strengthens my eyes by working with nice thin yarn. My usual go with the thin yarn is earrings but I have seen friends at the Stitch Social creating other patterns and thought it would be fun to branch out and try something new, after doing the last Mandela CAL I'm feeling confident more than ever that I'm able to branch out to harder patterns.
This collection is of a few fun Doily inspired patterns that range in level of difficulty, but consistent in the level of how pretty they are.
---
Crochet Mediterranean Surf Doily
The Crochet Mediterranean Surf Doily Pattern is pretty and easy repeating to manage. Using crochet thread but I subbed with Patons Grace.
With my testing version, I subbed by randomly putting in colours in the rounds. I did screw up the cross stitch on my testing swatch that now that I am back at my desk blowing up the original sample picture, I can see where I see I placed the leg of the stitch in the wrong spot. As we know in crochet, you really don't screw up as long as you are consistent. I will be teaching the proper way in the tutorial.
For Patons Grace Version, I used a 2.5 mm / C Hook. I used 101 grams. Which is just 1 gram over 2 balls. Depending on your tension, you may be playing yarn chicken with just two balls.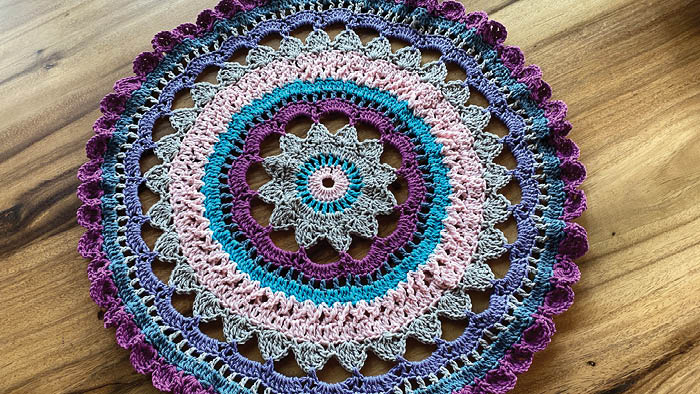 Tutorial
---
Crochet Mini Doily Earrings Pattern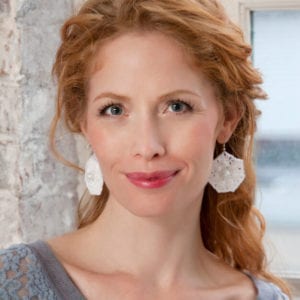 For those of us that are relatively new to the world of crochet Doilies or even a seasoned maker who is looking for something small to finish a ball, let's ease into this collection with these super cute Crochet Mini Doily Earrings Pattern. Earrings are my usual go-to when I am working with the thread yarn, they look so delicate and there are some beautiful shades I found a beautiful variegated yarn online when I bought it I had no clue what I was doing with it, at that time I hadn't tried making earrings, but then I made a pair of these in it and they have to be my favourite pair I own, typically I make them for craft shows, but this pair I can't seem to part with logically making a second pair would make sense but who am I to start making sense now!
This Crochet Mini Doily Earrings Pattern was Designed by Kristen Stoltzfus using Aunt Lydia's Metallic Thread, really anything that has a sparkle in any form has me sold it's the crow in me, but these would be pretty in any colour.

---
Crochet Suncatcher Mini Doily Pattern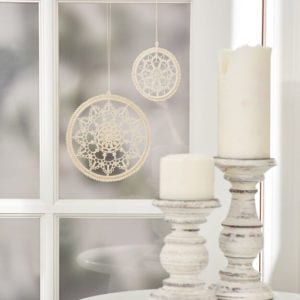 Suncatchers are the best, after watching Pollyanna as a child I like hanging things in the window, normally it's things that cast a rainbow in the room mu kids love chasing them, but these Crochet Suncatcher Mini Doily Pattern would look great hanging in a window too, I like it for in my kitchen window, it would also be a great little craft show item made up in different colours.
The Crochet Suncather Mini Doily Pattern was Designed by Kathryn A. White made using Aunt Lydia's AUNT LYDIA'S Extra Fine Crochet Thread, Size 30 as well as AUNT LYDIA'S® Fine Crochet Thread, Size 20. I happen to have the ring needed for one of these, I may give this a try after the kids go to bed and see what I end up with, there's no working on something that is going to need undivided concentration while their up if I don't want to have to frog it all later. I'm really curious to know if this casts a silhouette on the walls like the other type causes the rainbows. This is more for science honesty.

---
Crochet Sun Blossom Mandala Doily Pattern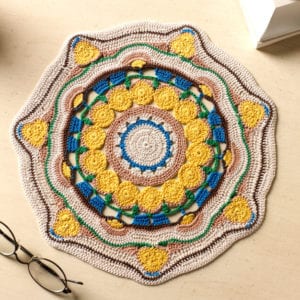 Hot on the heels of the Mandela CAL I bring you this Crochet Sun Blossom Mandala Doily Pattern. Still feeling pretty confident having finished that awesome pattern I feel like this project is the perfect follow up to that. I really found working on the Mandela CAL very therapeutic working on, it's one I really didn't want to put it down. This one looks like it may be a bit more of a challenge but it would also be very satisfying as well, and it would go really well with the CAL.
The Crochet Sun Blossom Mandela Doily Pattern was Designed by Diane Lavos made using AUNT LYDIA'S Classic Crochet
Thread, Size 10. This would make a lovely gift especially if you're gifting the Mandela blanket with it.

Tutorial
---
Crochet Wisteria Doily Pattern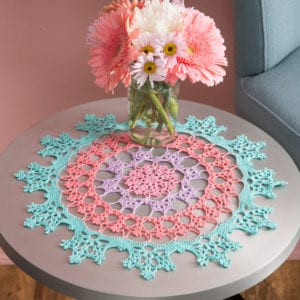 The colours alone of this one caught my eye right away. It would also be a cute Suncatcher and if I could figure out how to do this in earring form I totally would. The Crochet Wisteria Doily Pattern is such a pretty springtime doily and would add some cheer to any room, its such a pretty little accent under a vase of Gerber Daisy's or simply on top of end tables. Surely to snazz any room up.
This Crochet Wisteria Doily Pattern was Designed by Kathryn A. White made using AUNT LYDIA'S Classic Crochet Thread, Size 10. Make up this Pretty Westeria Doily in the colours used in the pattern or play with other colours you have in mind or on hand be creative and have fun with it. This would make a lovely craft show item or gift to someone you know who likes doilies.

---
Crochet Pineapple Symphony Pattern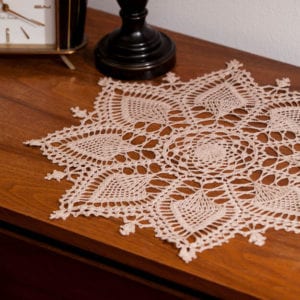 There is a friend of mine who goes to Stitch Social where I go and she makes the most beautiful table clothes I have ever seen this Crochet Pineapple Symphony Pattern reminds me of a miniature version of it. About as close to attempting her table cloth that I'm going to attempt is this Pineapple Symphony.
An easier pattern than the last few but it looks the most challenging to me, but the Pineapple motif in this pattern seems to be very popular, I've seen it in a lot of patterns from Shawls to table cloths. I'd like to attempt on in earring form but until now haven't really been able to find a pattern, I may just dissect a section of this one to attempt making a pair.
The Crochet Pineapple Symphony Pattern was Designed by Kathryn A. White using AUNT LYDIA'S® Bamboo Crochet Thread, Size 10, ohh I haven't tried the Bamboo yet, now I have a reason!

---
Crochet Lacy Accent Doily Afghan Pattern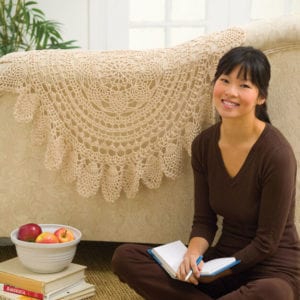 This very pretty Crochet Lacy Accent Doily Afghan Pattern could easily be used as an accent piece over a chair or the back of the couch, or as a table cloth over the kitchen table or on your coffee table. I also like to have one on a couple of other places in my house, however, those ones are boughten ones. I like the idea of making this one have one match throughout the space from the kitchen to the living room.
The Lacey Accent Doily Pattern was Designed by Bendy Carter. Made using Red Heart LusterSheen That's not one I  have on my stash but sounds like one I should probably have it sounds like it would be a very pretty yarn. This would look really pretty in the  Red Heart Unforgettable yarn colourway Stained Glass alternating with a solid colour. It would end up being more of a blanket size where the yarn is a larger weight, but that is the joy of crochet we get to play and experiment!

Pattern Suggestions
Crochet Pattern Ideas