6 Crochet Hooded Poncho & Blanket Patterns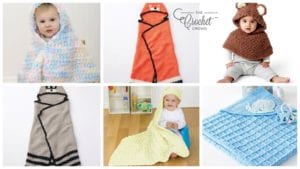 Hooded blankets are great for keeping little ones warm especially just after a bath.  A hooded poncho is great for putting on a little one when you have to run out in the car, instead of a jacket which makes it not only easier but safer for buckling them into their car seat. Either the Blanket's or the Poncho's are also great to have if you are a family like mine who loves to go camping for keeping the kids nice and toasty.
Any of these adorable Hooded blanket or Poncho patterns would make a great gift for a little one. Up your cuddle game with your little fox, or wrap them in a cozy hooded waffle blanket.
---
Crochet Cozy Hooded Blanket Pattern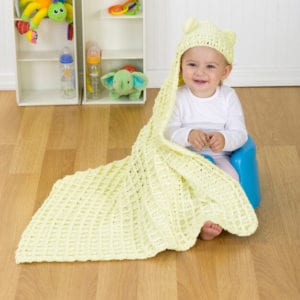 This Crochet Cozy Hooded Blanket Pattern is a cute hooded baby blanket to have in your repertoire. Who doesn't love ears on something, anything really for a little one, not going to lie before I know the art of crochet, I've bought hats for my kids just because it had ears on it. Now that I can make them myself it's great that my kids are pretty tolerant of the stuff I make them wear.
The Crochet Cozy Hooded Blanket Pattern was Designed by Michele Wilcox, she made it using Red Heart Moon & Stars. I don't think I've seen this yarn but it sounds really lovely and would love to see it if any of you have made this pattern using it.


Crochet Lil' Bandit Blanket Pattern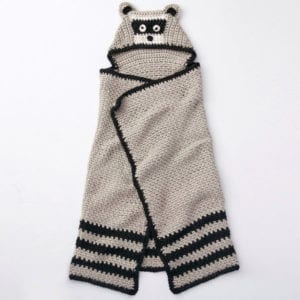 This hooded blanket is just too cute, you will love swaddling your little one in this Lil Bandit Blanket. This adorable Lil' Bandit Blanket is one that as they grow older they will still love wrapping up in it. The blanket pattern is written in a generous size so that you will get lots of cuddle time and many years of use from it.
This crochet Lil Bandit Blanket Pattern is made up of using Bernat Softee Baby Chunky a very lovely soft and squishy yarn who wouldn't love snuggling in it. The Rocky Raccoon pattern would be a great one to work up along with this Lil' Bandit Hooded Blanket Pattern to give as a gift for your own little one or for someone.


Crochet Snail Baby Blanket Pattern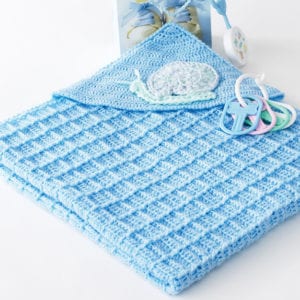 In any colour that you decide to go with this Crochet, Snail Baby Blanket Pattern works up so sweetly. It would make a perfect baby shower gift for anyone you know that is having a baby.
A friend of mine that as expecting soon and if I hadn't already started a different blanket I would have gone with one of these hooded Snail Baby Blankets. When I'm done hers, I might work on making some in a couple of different colours to have on hand for the next baby that comes along. Or to have when my kids have kids many many many years from now.
Although is considered an intermediate project, if you are familiar with the basketweave pattern, this Snail Baby Blanket Pattern is fairly similar. Made using Bernat Baby this baby blanket would make a great gift for any little one.

Crochet Like A Fox Blanket Pattern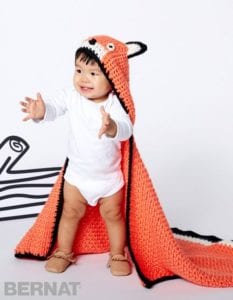 I love this little blanket, it's so cute my middle child would absolutely freak she is obsessed with foxes I may have to add this Like A Fox Blanket to my ever-growing list of patterns to work up. There is an adorable Francis the Fox Doll much like the Lil' Bandit and Rocky doll, that would make a great set together as a gift or for your own.
This Like a Fox Blanket Pattern was done in Bernat Softee Baby Chunky, Bernat Blanket would work as well if you have that on hand already. This blanket is great for lots for great cozy cuddling moments!


Crochet Hooded Baby Poncho Pattern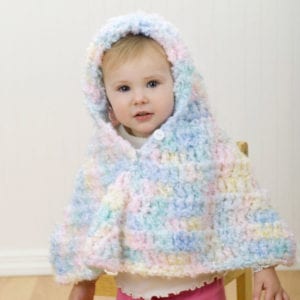 This  Crochet Hooded Baby Poncho Pattern is a great little pattern to make up for when it's chilly and your toddler doesn't want to wear a sweater when my toddler puts her's on she says she feels like a princess. It's great to put on them for our side playing spring is coming it will be that in-between weather soon enough too hot for a jacket too cold not to wear something. I find these great too if you're running errands and a jacket ends up being too warm I know for myself I just throw a poncho on, mind you mine doesn't have a hood... yet!
This cute little Crochet Hooded Baby Poncho Pattern was Designed by Joyce Nordstrom. She made it using Red Heart Light & Lofty, does that yarn not look extremely soft and squishy I would wear a poncho made out of this yarn.

Crochet Bear Cub Poncho Pattern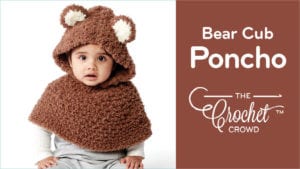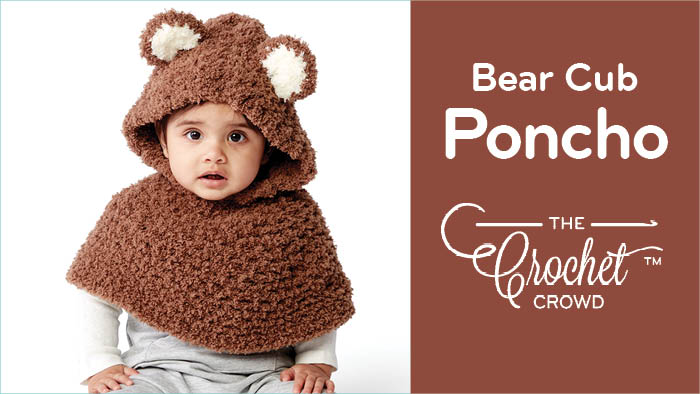 This cute Crochet Bear Cub Poncho is super adorable for young children. This pattern is pretty straight forward to work through. I've never done anything like this one before.
The pattern calls for Bernat Pipsqueak, in the tutorial I substituted for Bernat Softee Chunky so you could see my stitches. In the tutorial, I originally started with the same size hook and realized too far in the tutorial that the project was too small as the yarn was thicker. So if substituting, use a minimum of 8 mm / L Hook or even 10 mm / N Hook.
Bernat Pipsqueak can be flexible more than a regular type of yarn. So it's soft, etc. So just be careful when substituting, if you are going to.
The stitchwork has open gaps but it's not as noticeable in Pipsqueak but has is easier to crochet with as well.


Tutorial
More Crochet Pattern Ideas:
More Crochet Baby Blanket Ideas: