Crochet Hop Into Spring Patterns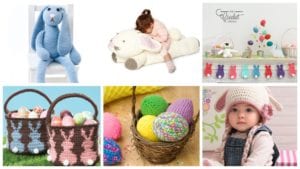 Let's hop into this spring with some really fun Easter patterns. Bunnies are so cute and there are so many fun ways to spread Easter cheer with them. I have loved all things bunnies for as long as I can remember. I myself have a Lion-Maine bunny, her name is Patience and the running joke is that she would be the only Patience I would ever have. Ironically she seems to be living forever she's getting pretty old for a bunny.
This time of year with Easter coming bunnies are everywhere and it makes me very happy,  so I thought it would be fun to see what I could find for patterns that are Easter or bunny related to get that spring feeling started with some fun patterns
---
Crochet Sweet Bunny Hat Pattern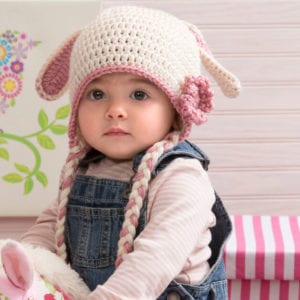 Hats with ears are the best, especially on little ones. I can't help myself when I see a hat with ears I want to make it for my kids, This Crochet Sweet Bunny Hat Pattern is no exception, I plan on making this for my youngest. She loves hats with ears, as much as I love putting them on her so I'm pretty excited to come across this one. I may switch out the flower for a bow or just make multiple hats with both, you can never have too many hats.
This Sweet Bunny Hat was Designed by Salena Baca I love her work. Salena designed this hat using Red Heart Soft, that yarn has such pretty colours and it really is soft, This would be a great craft show hat making the flower and trim in a different colour or even leaving the flower off entirely it would still be a really cute hat for any little one.

Crochet Bunny Garland Pattern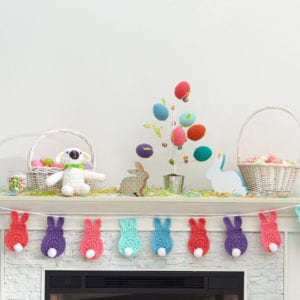 It'd fun to decorate for any occasion, not going to lie this is something I would leave up in a child's room all the time in their favourite colours, not just for Easter. Easter time I would just add more to the rest of the house, this Crochet Bunny Garland Pattern is just too cute, It would also be cute wall art if you did an individual bunny and put it in a frame. My youngest's favourite stuffy is a bunny (big shocker there eh) it would be really cute to make up one of these in the same colour to hang on her wall. Wonder how big I can make one…
The Crochet Bunny Garland Pattern was Designed by Nancy Anderson. It was made using Red Heart With Love. This is a cute decoration for your house, or if you are working a craft show this time of year you can decorate the front of the table with the Garland.

Crochet Bunny Egg Basket Pattern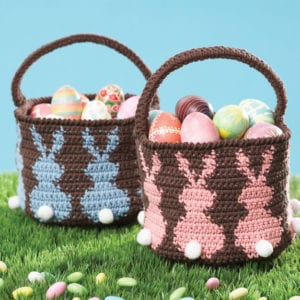 Every year we do the egg hunt at my mother-in-law's house, she hides eggs around their massively huge yard and we spend half the day helping the kids find the eggs. This Crochet Bunny Egg Basket Pattern would be perfect to make for each of her grandkids in different colours for them to put their eggs in.
Whether it's for egg hunts or just a decoration this basket is super cute and would look cute with the Bunny Garland. The Crochet Bunny Egg Basket Pattern is made using Lily Sugar N' Cream. A great little basket to have filled with chocolate, when company comes over or for your self, we deserve chocolate too after all that hard work crocheting we do!

Crochet Easter Egg Pattern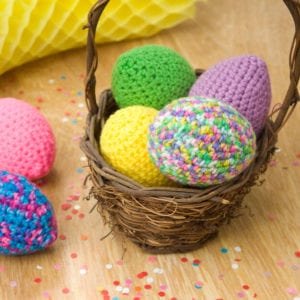 If you are anything like me you hate those plastic eggs, their right up there with glitter and confetti. This Crochet Easter Eggs Pattern is a great alternative to those plastic eggs. Great for hiding in the house or outside if you are somewhere warmer and with less snow.
Little ones would enjoy these eggs in nice bright colours as well and much safer for them to play with and less mess than dipping them to colour them, plus these ones last a lot longer and you don't have to be gentle with them so they don't break. The Crochet Easter Eggs would look cute in the Bunny Egg Basket as a decoration, or if you want to use them as your hiding eggs.
The Crochet Easter Egg Pattern was Designed by Bobbi Anderson, She designed it using Red Heart Super Saver. Have fun making up this egg pattern in all kinds of fun colours.

Crochet One-Skein Bunny Pattern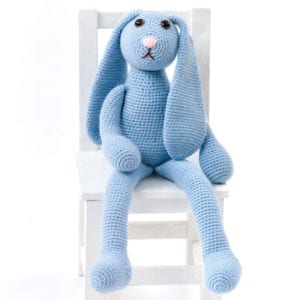 I love a good one skein project, every now and then I like to take a brain rest for the more challenging projects I like to play with and a lovely pattern like this is fun to whip up. This Crochet One-Skein Bunny Pattern is a great project if you are looking for something for a baby shower gift, a craft show item that kids will love or an Easter gift, or simply because you are like me and like bunnies!
The Crochet One-Skein Bunny Pattern is made using Caron One Pound, if you are somewhere that it isn't available to you like it is here, you can either order it online or there are some other lines that have pretty close to the amount you would need. I'm curious how this little bunny would turn out in one of the Caron Big Cakes there are some really pretty colours in those cakes.

Crochet Bunny Floor Pillow Pattern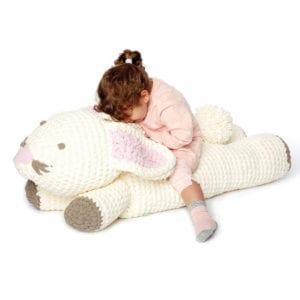 I am pretty excited about this one like I almost wanted to go out and buy the yarn as soon as I saw the pattern level of love for this Crochet Bunny Floor Pillow Pattern. My kids are not coach dwellers, let's face it half the time you'll find me sitting on the floor too, so when I saw this floor pillow I thought it was the coolest pattern I have seen for floor type pillows. I know my kids would far rather sit on this Bunny Floor Pillow than they would the couch, I really can't blame them!
The Crochet Bunny Floor Pillow is made using Bernat Baby Blanket. The bunny would be so soft and cuddly it would make the perfect gift for any little munchkin.

Pattern Suggestions
More Crochet Pattern Ideas