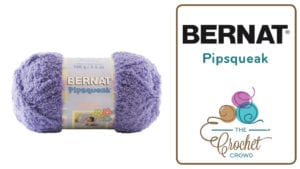 What To Do With Bernat Pipsqueak Yarn
A steady and one of my favourite yarns is Bernat Pipsqueak Yarn. It's like crocheting with a cloud. There are two things you need to know about this yarn.
Number 1… If you are new to crochet and or struggle with locating stitches, you want to stick with open work projects like Granny Squares with this yarn. It's difficult to see the stitches and you need to use your finger tips to feel for the stitches. For open work like Granny Squares, you don't need to worry about it and can blaze along just nicely.
Number 2 – If you are experienced with crochet, you shouldn't have too much of a problem. You will use your finger tips to feel the open stitches that you can physically cannot see. This applies to projects where there really isn't any gaps to give you key open stitches. It's doable but requires experience.
Generally, I have crocheted several blankets and ideas with this yarn without any difficulties. I enjoy the thickness. My one friend just loves this yarn beyond believe for her grown up boy. He loves snuggling under it while watching TV. She's even made a full double size blanket in a massive granny square using this yarn. It's super quick as it's bulky and super soft.
Overall, I enjoy this yarn. It's bulky look makes for relatively quick projects.
Yarn Story
Tested for Harmful Substances
Bernat Pipsqueak Yarn has been tested for harmful substances and approved according to the OEKO-TEX Standard 100 certification, so you can stitch on with the confidence that your baby is wrapped up in a project made with care.
Women's Choice Award 2016 & 2017
9 out of 10 customers recommend Bernat Baby Yarns and we think you'll agree! With a range of yarns this soft and colorful, you can find the perfect choice for your baby.
Bernat Pipsqueak is a bulky weight yarn that is quick and easy to work with, making it perfect for last minute baby gifts like snuggly baby blankets!
Fuzzy, textured baby yarn
Content: 100% Polyester
Ball Size: 100g / 3.5 oz, 92 meters / 101 yards
Care: Machine wash and dry
Gauge: 5 – Bulky
Knitting Gauge: 11 sts and 16 rows with a 5.5 mm (U.S. 9) knitting needle
Crochet Gauge: 9 sc and 12 rows with a 5.5 mm (U.S. I/9) crochet hook
Use for: Knit and crochet last minute baby gifts
Gallery
Some free and paid patterns. The ones with Paid Pattern are featured in a Booklet by Bernat. Links for each picture directs you to the patterns. I have indicated which ones are free for your convenience.
More Bernat Yarns
No post was found with your current grid settings. You should verify if you have posts inside the current selected post type(s) and if the meta key filter is not too much restrictive.