Reading Time:
4
minutes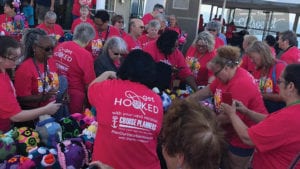 Southern Caribbean Feb 2020 Homework
Not only do we crochet cruise together but we paddle along together in a community project on board. For February 2020, Southern Crochet Cruise that is 12 days, we will be working on a throw that is 46″ x 58″. It is consisting of 20 squares where we are going to add more and more.
We are sponsored by Yarnspirations for this cruise. This pattern is expected to be released in diagram format only to the general public after the cruise is completed. 
How to Read Diagrams
If you need help learning how to read diagrams. Grab a cup of coffee / Tea or Water and play this tutorial. You will learn a lot.
What to Expect from A Crochet Cruise
Daniel and I run an energized community group on board. We engage with activities, play games and have experienced together. Some passengers expect crochet cruisers to be quite little mice but they have another thing coming to them. We really enjoy each other's company and it's not uncommon for bursts of laughter and storytelling to happen.
No crochet cruise is complete without a challenge. This is a Stitching Diagram Challenge. The throw is highly textured with overlays and fun bits and bobs without giving it away completely. With the texture, it can be confusing to write all of the words out, so this time, the project is only in a crochet diagram format.
I will film the square and flower needed as the flower is textured with two layers as you can see in the diagram.
On the ship, I will go over the instructions.
The diagrams will be marked with extra hints where an experienced crochet diagram reader would know but someone learning may not think to ask or assume to know. We'll help you succeed.
The inspiration is Lite Brite, a fun game from the past. However, we have given other colour options where you can best match your colours. Of course, you have the ultimate creative say.
In light of people having different choices of yarn, the original was done in Caron One Pound but I have given suggestions for Red Heart Super Saver, Bernat Super Value and even Caron Simply Soft. Notice the yarn ball quantities change as the yardages are different in each brand. If using Caron Simply Soft, notice I am saying to use a 5 mm / H Hook instead for that yarn.

Find Your Yarn
We are expecting you to bring all of the yarn for this project with you. Each cruise, we have participants complain about our colour choices as it doesn't suit everyone. This time, to avoid this issue, we are having you bring your own yarn for the complete project. Therefore, you have selected the brand and colours that most suits your lifestyle.
You can shop at Yarnspirations, see what you have in your yarn collections at home or find a store near you to go shopping.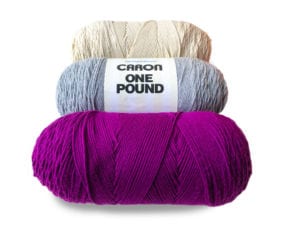 I Know What You Are Thinking!
If you are doing the Caron One Pound Option. It's a total of 6 balls. See my note saying how much yarn is used for just doing the main colour. You will notice 1 complete ball is used plus 25% of the second. Technically, you are not packing your homework with an additional 6 balls of yarn. You are bringing what is left of that main colour plus the remaining of the 4 contrasting colours.
For Ambitious Crocheters
I've done timing tests. I am recommending only doing 1 set of 20 squares. Doing one set will take you about 5 hours. Knowing the rest of the project that is for this project, I feel you will run out of time if you try to do more than 1 project during the complete cruise.
The flowers take about 3 hours to do all 20 of them. It is applied at the end of the completion of all squares before the final assembly and border.
Weave in Your Ends
Weave in your ends as you may kick yourself later as it's valuable cruise time.
Opting to Not Do Homework
If you opt not to do your homework and start the project on the ship, you will be about 8 hours behind the cruisers who are moving onto the next portion of the project. That's a decision you can make for yourself.
We are NOT doing a swap with other cruisers due to personal tension that is in the squares. The squares are about 9″ but whatever your tension is, that's your own personal gauge. If your square is much smaller than 9″, increase your hook size to increase. If your square is too big, decrease your hook size. If you are changing out your hook, be sure to record it somewhere so you know what hook to continue to use. Use the same hook size to complete the flowers as well.
During Your Cruise
Some cruisers love to crochet all of the time giving them the advantage of finishing early. Other cruisers just crochet while in class and enjoy the ship's entertainment. Cruise to your own liking and complete the project at your own pace.
Click Picture Below for the 4 Page Worksheet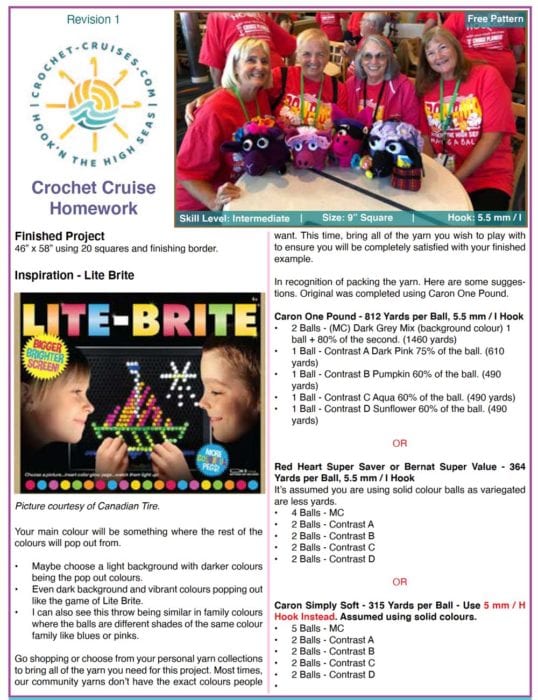 At the end of the cruise, we will do group photos and a display of all of our community projects together.
Tutorial To Do Homework