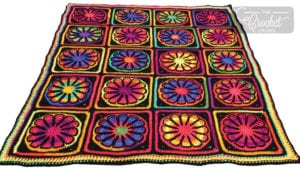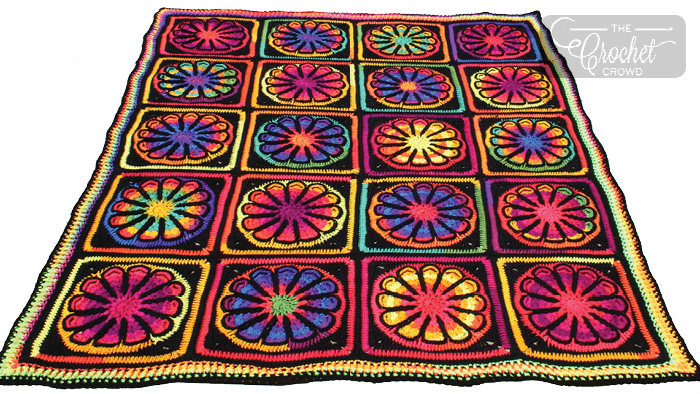 Crochet Flower Power Afghan
The Crochet Flower Power Afghan squares were designed by me, Mikey, of The Crochet Crowd. The colourway and change of the border were done by Nancy Elliott. This afghan appears to be like Lite Bright back from the '70s. It's visually amazing.
Nancy and I worked together in putting her changes into words so that you may complete a similar afghan. The afghan is approximately 62" x 76".
She has used 2 colour major colours in this blanket. If you look carefully, the colourway follows through each square completely. 10 squares are using Colour A throughout and the other 10 squares are using Colour B throughout. Also note in the pattern, for the border, she used colour C but did not use the Black that was in the yarn striping so it wouldn't ruin the border. She simply cut the yarn and eliminating black from the colouring of C.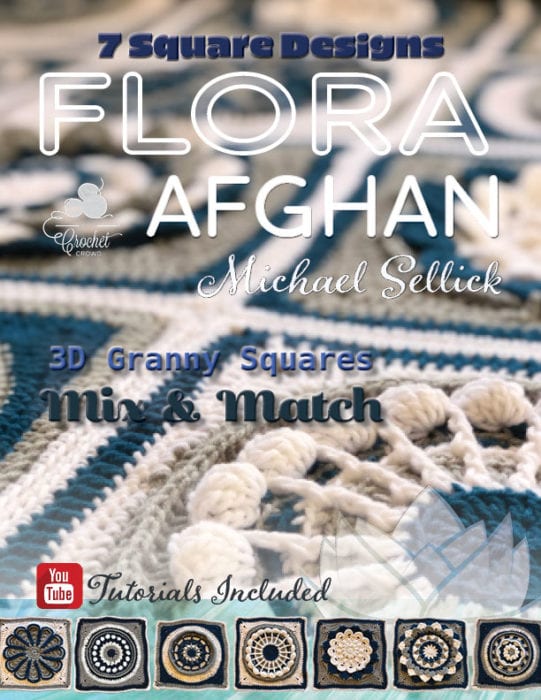 The afghan square is from the Flora Afghan Design series with myself. Technically, Linda should have only done 3 squares for this finished afghan but she loved the square so much, she decided to run away with the circus and do up the entire 4 x 5 afghan all in one square. I know others have done similar ideas as well.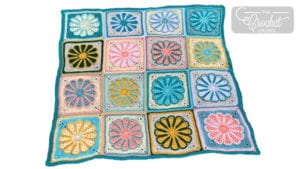 Sheila Wilson also did up an afghan using just these squares. You can see that changing up the colours and having fun with this square, the possibilities are nearly endless.
Be inspired by these squares and may the flower power be good to you as well.
More Ideas
Tutorial
Linda's border and colourway are not suggested in this tutorial as her afghan version was based on the original design here and done after the fact.
Stitch Along Patterns
More Afghan Pattern Ideas