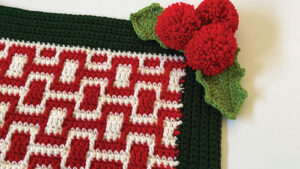 The Crochet Holly Jolly Christmas Blanket joins our Christmas Blanket Collection for 2021. This is using mosaic or interlocking techniques.
A tutorial has been designed to show you how to make this.
It resembles the look of Christmas Wrapping Paper and you can do the optional holly with pom berries on the corners if you wish. The repeating is just 12 rows to get the look and not overly complicated in comparison to other patterns out there.

How to Read Crochet Mosaic Patterns
General Overview of Pattern reading for Mosiac Concepts. The tutorial for the actual project is further down the article.
More Ideas
Tutorial
More Christmas Blankets