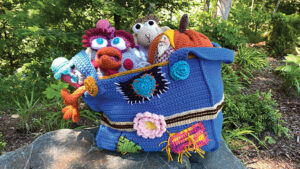 New for summer 2021 is the summer bag challenge. Get the pattern when it becomes available and then decorate the bag (just 1 side minimum) to a theme. 10 random winners will receive an Official Crochet Crowd Tote.
My example is called Patches and it resembles, very loosely, a scarecrow. Squint really good.
The original bag has a theme to it but it doesn't look like my example, in fact, there are more elements and a lot cuter. Much much cuter! I love a homemade look myself. It's the Crochet Elf and Santa Gift Bags.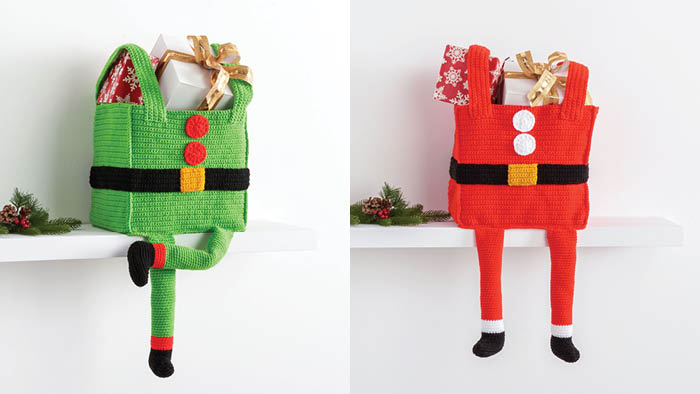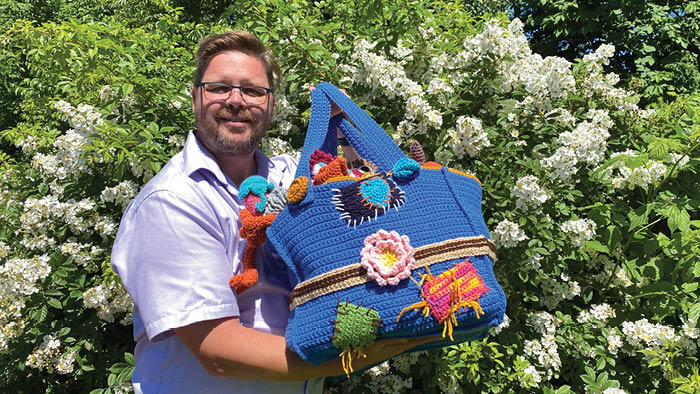 Let's Cover Some Ground Rules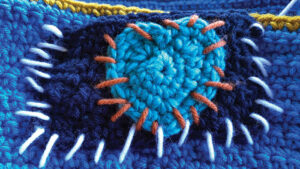 To be fair to everyone for the amount of work minimum you have to complete.
You may use the original design that Yarnspirations has for this project that will be in the pattern.
You must complete 1 bottom and 4 sides as stated in the pattern. You can opt to use any colour, stripe it, grapghan it but keep the single crochet base.
You can use any yarn you wish, but I do recommend a value-based yarn like Red Heart Super Saver or Caron One Pound for durability.
Your bag must have 2 handles. You can change the stitchwork or colours for the handles.
You can leave off any extras that the pattern suggested but you need to replace them with a minimum of 3 elements of someone else so your bag has a theme. Only 1 side needs to be decorated in any theme you wish. Please keep it family-friendly and not profanity words.
You can opt to decorate more than 1 side.
Your bag must be assembled and the technique to do that is given in the pattern but if you see a different way, you can exercise that creative experience.
The pocket you see in the example above is not on the pattern. The original pocket is sewn properly to the surface so I can slide a gift card into the pocket without falling between the white yarn strands that appear to be holding the pocket. It's an illusion. The white yarn is a Japanese technique is called Sashiko in the art of adding patches that look out of place or the stitchwork calls your eyes to attention as the project appears to be mended. It's highly in trend. There are tons of tutorials on Sashiko if you are interested to learn more. Of course, Sashiko is more deliberate and you can really do amazing things with it.
Things seen on and in my bag can be found by clicking the pictures that match. Of course, use your own creativity and theme up a style that matches your wishes.
More Ideas

Tutorial
To Be Made and will cover the original theme of the bag.
Official Crochet Crowd Bag
You can win an official Crochet Crowd Bag. We have 10 to giveaway in random draws. You have until August 20th, 2021 at 11 pm Atlantic Time Zone to send me a picture of your finished bag.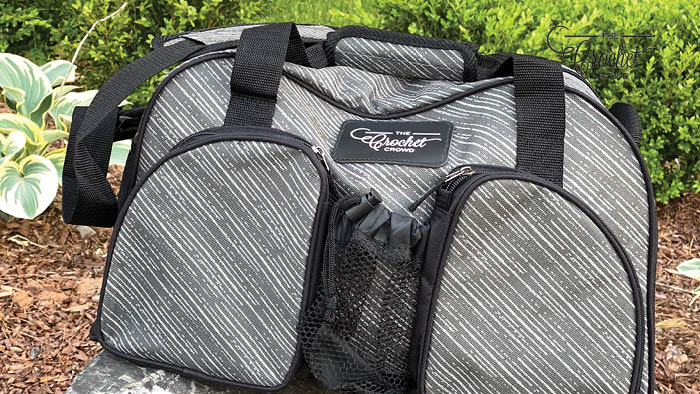 Giveaway General Guidelines
There is no sign-up required to participate. Complete the project and email your photo when you are done. This challenge is open to all Crochet Crowd Community Members.
You may use any yarn you wish. You may create any colour scheme. Use as many or as few colours as you prefer.
You may do as many projects as you wish. If multiple entries are identical, a picture showing the projects together to prove there are multiple must be included with your submissions.
We require your photo to show the entire project so we know the entire project is done. Ensure your project is completely finished with yarn tails and etc not showing. It's like giving it out as a gift, we want to see the photo showing as if you were gifting us the finished product. This way we know you are completely done.
If you are changing your hook size or yarn, we are still looking for the pattern to be the same.
All photos must be submitted during the challenge time frame only. Entries after this due date will be accepted for our gallery but there are no prize giveaways after the deadline.
Your Choice: Post your finished project on The Crochet Crowd Facebook Page to show everyone your finished work so we can drool over your creativity.
When you email your finished photo to us, we respect your privacy and will only post your first and last name on the picture in our gallery with the photo so we can identify the winner at the end.
Featuring on Facebook is dependent on you. We do not upload your emailed photos to Facebook. You have to do that yourself if you want to Show N Tell your creativity.
We are not responsible for undelivered email and/or late entries to qualify for the prize.
Due to the countless technology platforms and services, we are not responsible for any of our challengers if mobile devices or technology that isn't compliant to being able to read our website, view our videos and/or get access to the free patterns.
All applicable federal, state and local laws and regulations apply. Void where prohibited or restricted by law.
Please verify your entry is in our gallery prior to our draw. We need up to 4 days to get your entry into our gallery. We upload it ourselves as part of our review process. If you do not see your entry, we most likely haven't received your email. Do not wait until after the draw to check if your entry is in. 
This is intended for a fun community challenge only. We each are deserving of the highest praise possible for our own creativity. Let's have fun.
---
How to Submit
Please read the guidelines below to understand what we are looking for.
Send your photo to us through email at [email protected]
Use Subject Line: Summer Bag
In the email leave us the following information.

Your Full Name
Your Mailing Address

We will not be adding your name or email to our database.
We are accepting entries from July 1st to August 20th at 11:00 pm AST. 
We will email you if something is questioned in your photo.
You will not hear from us if your email didn't get to us. So if you don't see your entry after 4 days of submission, it means we haven't received it.
More Bag Patterns