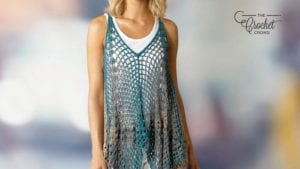 Crochet Lunar Top Pattern
The Crochet Lunar Top is a really easy level, in fact, it could be a beginner level that really is ambitious.
The top is made up of 4 lace looking granny squares that are strategically whip stitched together. It is suggesting to use Red Heart It's A Wrap Rainbow. I used Sprinkles in the tutorial.
The only stitch in this pattern that may throw a beginner or easy level crocheter is the top edging as it uses double link crochet. Using this yarn for this stitch is a bit challenging. In fact, though I taught using D-Link, I truly did the top edging in half double crochet. I left you a single tutorial below for just the double crochet link as it uses thicker yarn and easier to see.
Remember, it's your creativity. Improvise where you feel you want to.


Pattern Suggestions
Tutorial
Double Crochet Link Stitch
More Clothing Crochet Patterns