DOWNLOAD CARDIGAN FREE PATTERN
---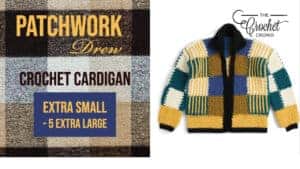 Jonah Larson designs the Crochet Patchwork Drew Cardigan. Jonah is a correspondent for the Drew Barrymore Show, occasionally contributing his thoughts to her show and crocheting her things. You may see his meetings with celebrities on social media and contribute to different talk shows in the USA as a guest. He enjoys showcasing crochet in the mainstream media.
His cardigan design uses multiple brands to provide a unique look and texture to the cardigan. The cardigan is made in strips for the colouring and then sewn together. A schematic is provided. The pattern is classified as easy, but a strong reading knowledge is essential.
As far as I know, there is no tutorial on this cardigan.
---
Television
Speaking for me, I know Drew from her debut in ET in going to the drive-in theatre with my Dad to watch the movie. Drew is 47, and I am 49.
A Bit of Personal Perspective
I stopped watching television back in 2009 as I couldn't afford the cable bill. Years later, we jumped onto Netflix and streamed going forward.
Daniel and I went back to regular television in 2018-2021, but I got sucked into the 24-7 news cycle and did not watch anything else, ruining my life. I was addicted so deeply that I wasn't functioning properly. I found myself putting up guard rails on things I have no business behaving with fear.
I was starting to mentally decline into a state of fear and worrying about things I had no control over. I was growing fear of travel, going out in public and much more. I went to see my doctor over it. I was a mess. Cutting the cable was the answer, and stick to the streaming where I am not glued to the day-by-day political games treating our society like a sports arena game luring me into a sickness.
From the snippets I have seen, Drew has challenges others, like me, will never have. Living in the public view. I cannot imagine the stress of it. It's not a life I wanted for myself. In a way, I feel bad for never having watched her show, but on the other side of the spectrum, I couldn't emotionally stay connected to a TV for life balance. It's a double-edged sword.
How would you describe your TV habits? leave me a comment below.
---
Pattern Details
Project Size: Adult XS to 5 XL
Gauge: Highland Bulky Tweeds™ 8 sc and 9 rows = 4" [10 cm] with larger hook 9.5 sts and 12 rows = 4" [10 cm] in Moss St pat with larger hook Bernat® Super Value™ 13 sc and 14 rows = 4" [10 cm] with smaller hook.
Designer: Jonah Larson
Hook Size on Pattern: 5 mm / H/8 and 8 mm / L/11
Yarn In Pattern: Bernat Bounce Back, Bernat Freesia, Bernat Softee Chunky, Patons Highland Bulky, and Patons Highland Bulky Tweeds.
Pattern Date or Last Revision Known: July 12, 2022
Please use the pattern for details on yarn quantities, gauge and other details not listed here. This pattern may have been updated since the creation of this tutorial, and the information or presentation of the printable PDF may have been changed without notice.
More Ideas
---
Tutorial
Not at this time.