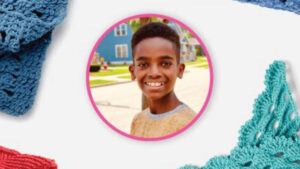 56 Jonah Personal Charity Patterns Picks
Jonah has combed through Yarnspirations and personally selected 56 assorted patterns with charity in mind. See 56 Free Patterns.
Jonah has been crocheting since he was 5 years old. Currently, he's 12 years and complex stitches don't even phase him for accomplishing really awesome concepts.
Jonah has been instrumental to raising funds for building a Library and is working towards building a science lab. He's been involved with Roots Ethiopia. You can also see more about him on his own website at Jonah's Hands.
More Ideas


Mikey and Jonah Talk Charity
Candid discussion regarding charity.
More Charity Patterns