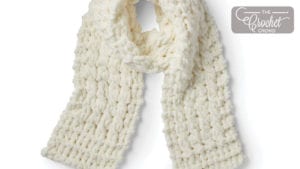 EZ Knit Cable Scarf
Learn how to make this EZ Knit Cable Scarf with my friend, Jonah. Jonah is co-hosting with us on Yarnspirations in demonstrating this easy technique using Bernat Alize Blanket-ez yarn.
It takes a lot of courage to demonstrate to the world on teaching yarn techniques, so I applaud Jonah for taking the risk. We have a whole slew of ideas for this particular yarn brand and as Jonah demonstrates, you can see if he can do it, a lot of kids can master the idea of knitting with using knitting needles.
Get started with Jonah and make your own knitted cable scarf.


More Bernat Alize Blanket Ideas
Tutorial
More Crochet Scarf Ideas