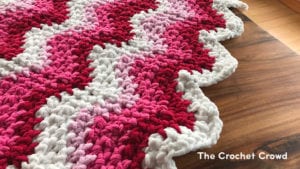 Crochet Plush Moss Blanket
Introducing the Crochet Plush Moss Blanket that is the Moss Stitch. The Moss Stitch is used in examples like Colouring Pooling but for this sort of Chevron Wave, colour pooling, (I don't think), won't work.
The pattern has 3 rows as it takes the 1st two rows to get the pattern established. Once you get to row 3, the rest of the blanket is simply repeating row 3 until you are done.


I used Bernat Blanket Stripes.
Colour Pooling Using Moss Stitch
Moss Stitching creates the colour pooling look when done in straight rows across. Learn how it's done with the tutorial below.
The colour is changing on it's down for the rich stripes you see in the blanket. For new crocheters, the idea of fumbling around with constantly changing colours out is eliminated.
So let the yarn ball do the work for you.
Example of Moss Stitch
The below tutorial is showing the Moss Stitch in a Scarf. It's called the Crochet Mood Scarf.
This is the Moss Stitch using Bernat Blanket. Again, in straight rows across. This is called the Crochet Hibernate Afghan.
Tutorial