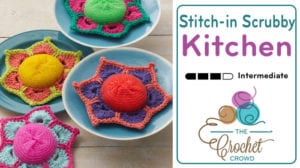 Crochet Posey Scrubby
A cute and practical idea for the kitchen is the Crochet Posey Scrubby. Starting with an existing plastic scrubber that you can pick up at a dollar store, you can crochet using it as a base and add on whatever you need.
The scrubbies I picked up were $1.25 CDN for a pack of 6. Pretty inexpensive. I applied cotton directly to the scrubby for the flower look that you can see in the photo.


In the tutorial below, I will show you tips on how to do this. You will notice this will go really quick and is probably one of the biggest reasons you can find these in craft markets, flea markets and fundraisers. They are totally practical, easy to make and inexpensive too.
If you are going to wash these in the washing machine, be sure NOT TO THROW IN DRYER as the plastic scrubby will melt and cause you a big mess to clean up.
Video Tutorial