Crochet Stuffed With Fun Patterns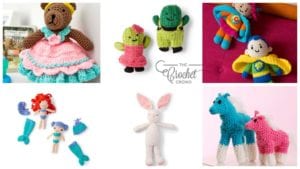 It is about that time to take a break for the hats and sweaters for a bit until we want to deal with that cold weather stuff again, time to switch gears to something a little more fun to work up.
This collection I gathered is for stuffies, they were all too cute, every time I turned a page and saw another one I wanted to make it I don't know where to start! If you have a little one who is like mine, she likes things in two, one for each hand, so I'm really loving that there is a lot of the patterns have pairs not to mention they're really just fun.
---
Crochet Princess Bear Play Set Pattern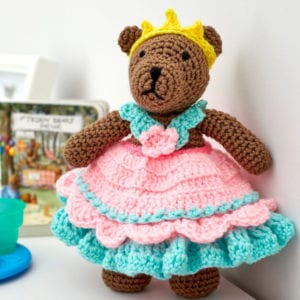 This bear is the cutest, any little one will love playing dress-up with their little Princess Bear Play Set. This would make an adorable gift for a little one's first birthday. Or any birthday really I'd even be pretty excited to get this, I mean I wouldn't keep it long I'm sure my girls would quickly lay claim to it, either way, this little Princess Bear would be well-loved.
This Crochet Princess Bear Play Set Pattern was designed by Michele Wilcox made using Red Heart Super Saver. Make the outfit in your favourite colour or make a family in different colours.

Crochet Agave & Aloe Cactus Patterns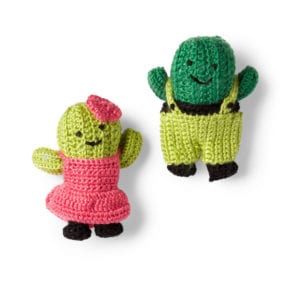 I am not sure if this pattern was more for me in mind or kids, because I think these little guys are the absolute cutest. Meet Agave & Aloe Cactus the cutest little cacti that you'll want to play with. These little guys are ones I really want to make up for craft shows this year, a great way for kids to become interested in plants.
These Crochet Agave & Aloe Cactus Patterns were designed by Michelle Wilcox made using the Red Heart Amigurumi. You could easily follow the pattern using a different yarn like Red Heart Super Saver colours, they will be a little bigger but still just as cute.

Crochet Boy and Girl Super Heroes Patterns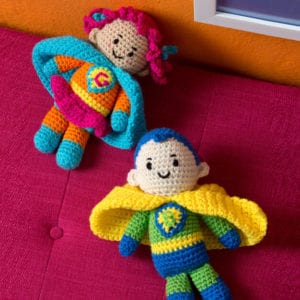 This Crochet Boy and Girl Super Heroes Pattern is actually one I really want to make for my youngest, I think this is one she would really love to play with, all my kids love running around with capes and pretending their superheroes, well maybe not the oldest as much anymore, I'm sure he would if he thought no one was looking. When you make up your set you can use the  "B" and "G" like in the pattern, leave it blank or if they are a gift for someone you can put their initials to make it a little more personal.
These Boy And Girl Super Hero Patterns were designed by Michele Wilcox made using Red Heart Super Saver, you can go with the superhero colours that are used in this pattern, or try using the colours of their favourite superhero for the one you plan to make this for.

Crochet Dia & Mia Mermaid Patterns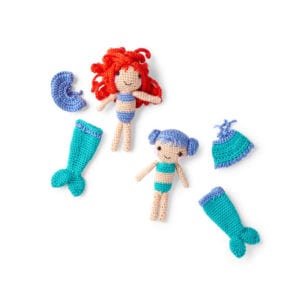 Almost every little one goes through a phase of loving mermaids at some point, some never really outgrow it *cough*me*cough* and there is nothing wrong with that. These little Crochet Dia & Mia Mermaid Patterns are the perfect gift for any mermaid lover. A great birthday gift, or just because gift, you'll have lots of fun with these beauties. I love that you can change from tail to outfit and back, it's not just one or the other.
These Crochet Dia & Mia Mermaid Patters was designed by Nancy Anderson made using the Red Heart Amigurumi I haven't tried these yarn balls yet, I don't think anyone I know right off has that I've seen I'd love to see anything anyone has made from these balls. Not going to lie I had looked at a couple and they were all knit patterns so I didn't keep looking or get any because I can knit for beans, I didn't realize there were crochet patterns let alone mermaid!

Crochet My Ponies And Me Pattern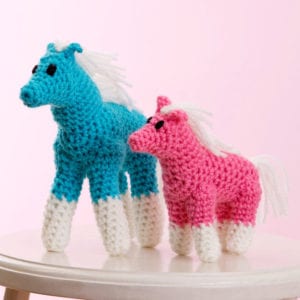 Another phase most kids seem to go through is the pony phase, this cute little pattern is a good one if you have a horse lover in your home, or know a little one who loves ponies. This Crochet My Ponies And Me Pattern can be made up in the fun colours like what is used in the pattern, or you can easily make them up in any different colour that you might like.
These Crochet My Ponies And Me Pattern was designed by Rebecca J. Venton made using Red Heart Super Saver, use magical Fairy colours, or traditional horse colours, either one will result in a happy child loving their very own little ponies. If you add a little horn then you have yourself a unicorn. Mermaids and magical ponies there's nothing better than that.. well except chocolate.

Crochet Velvet Bunny Pattern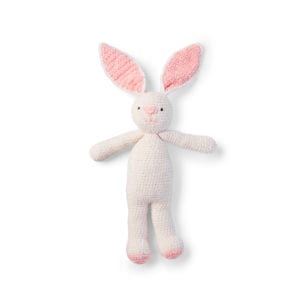 I have always had a love for bunnies, their just so cute, those floppy ears and cute little faces are the best. For those of you familiar with the Velveteen Rabbit, that's what this one reminded me of so soft and loveable. The last of this collection this cute little Crochet Velvet Bunny Pattern would make a wonderful baby shower gift or gift for a first birthday really a great gift for anyone who loves bunnies.
This Crochet Velvet Bunny Pattern was made using Bernat Baby Velvet if you haven't had your hands on any of that yarn yet it is so very soft and lovely you really need to squish it.
This Velvet Bunny would look super adorable in a little dress, or little pants or even better make more than one and have a few outfits, bunnies do like to multiply!

Pattern Suggestions
Crochet Amigurumi Pattern Ideas