6 Fun Fabulous Crochet Kids Patterns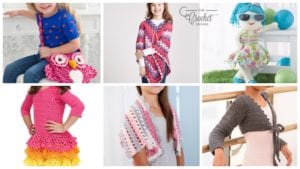 If you have little ones anything like my girls their always asking you to make something for them, and it usually has to be two of everything so they don't fight over it, the oldest is usually like meh whatever.
I have a shameful amount of balls not full from smaller projects of different weights, so using some on things for the collection is a great way to make room for new full balls once I'm able to get the chance to replenish my yarn supply.
The great thing about these smaller kid's patterns is that it gives you the chance to play and experiment with different yarn weights to see what the difference is in a project without using up a ton of yarn like it would in an adult size version.
---
At The Barre Crochet Shrug Pattern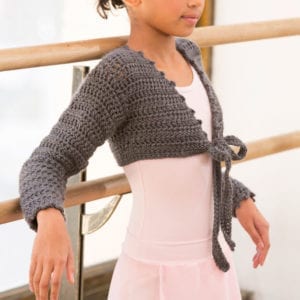 If you have a child in dance this sharing is a great item to work up. Even if you don't and have a child-like mine who is so much like her mother it's crazy and tends to wear a lot of strappy type clothing like tank tops and dresses, this At the Barre Crochet Shrug Pattern is great for kids who wear things like that as well. Not to mention is a super cute Shrug.
This At The Barre Crochet Shrug was Designed by Diane Moyer she made it using Red Heart Sparkle Soft, which is a 4 weight if like me you don't currently have this weight at home in your stash, try picking a pretty colour of something you do have on hand, if they are a child in dance, you can make one match their outfit(s). I know however if I end up making this and they pick out the colours it will be some pretty wild combinations they sure do love colour.


Girls Crochet Poncho Pattern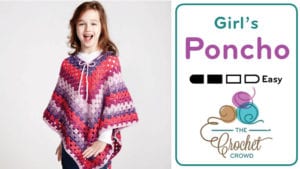 If you are a fan of the granny stitch like I am this is a super simple poncho you can work up for pretty much any size really. With a few little tweaks, you could easily make this Girl's Crochet Poncho Pattern for toddler size keep adding rounds to get it to the length you would like it to be, or as short if you prefer your arms to be freer. Another poncho very similar that has been mentioned in another blog that was done recently is the Cool Poncho an adult version.
This Girls Crochet Poncho was made using Bernat Pop but if you don't happen to have any cakes at home right now, it's super easy with the use of the magic knot to make your own cakes! I think this poncho would look sweet in the Ombre yarn as well.


Crochet Rows O'Ruffles Dress Pattern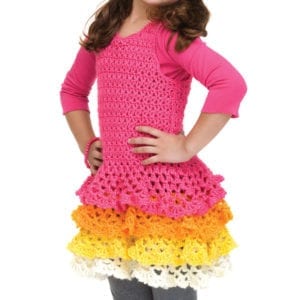 This crochet dress is just too adorable if you have a little one who loves to play dress up this is a great little pattern to work up in a few different colours to have in their dress-up tote they can be a ballerina or a princess where ever their imagination takes them. This Crochet Rows O'Ruffles Dress Pattern is also a cute dress pattern to wear over a little t-shirt and leggings or shorts.
This adorable Crochet Rows O'Ruffles Dress Pattern was designed by Treva McCain made with Caron Simply Soft, I'm not sure if that has been discontinued or nor, the stores near me haven't had it for a little while, Loops And Threads has a yarn very similar to it, you can always substitute with any 4 weight yarn you have though. I have been trying to work on a dress for my youngest I don't think I have been enjoying it because I keep avoiding it, I think I might give this one a try instead, she's a frilly type child I think she would love this one more too.


Adorable Girl's Crochet Shrug Pattern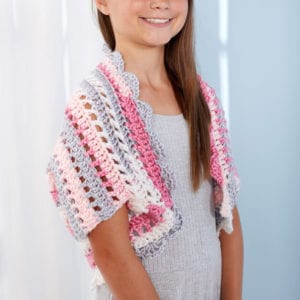 Another great little shrug for those who aren't a fan of wearing a full sweater love those tank tops but want to wear something when they are a little chilly. This Adorable Girl's Crochet Shrug Pattern is a cute little pattern that you can easily adapt to a larger size if you wanted to make a mommy and me set.
This Adorable Girl's Crochet Shrug Pattern was designed by Diane Moyer it was done in a bulky weight if you find you don't have any on hand you can use lighter weights held together to get the size of the bulky. I have intentionally don't this in a few project's I couldn't find a colour in bulky that I liked for the item so I use two 4 weights together. In this easy pattern, you make a rectangle to the size you like and seam in the arms, I usually cheat and slip stitch the seam I find it's easier than sewing and it tends to be a lot quicker for me as well. Once seamed together you then add the border.


Crochet Wise Owl Tote Bag Pattern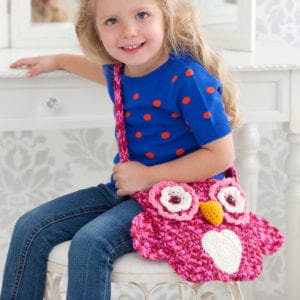 Have an owl lover in your family? I do I plan to make this for my Neice she loves owls this little tote is perfect for her. It seems like little ones.. who am I kidding... most of use love bags in one shape size form or another,  Crochet Wise Owl Tote Bag Pattern in the favourite colours for whoever the receiver may be, whether it's for yourself or another owl lover you know.
This Crochet Wise Owl Tote Bag Pattern was designed by Michele Wilcox She made it using Red Heart Super Saver, that's a fairly common yarn that most have on hand that or Caron One Pound seems to be another commonly liked yarn I tend to have a lot of the Bernat Premium on hand, any of these will work for this pattern.


Fun In The Sun Crochet Doll Pattern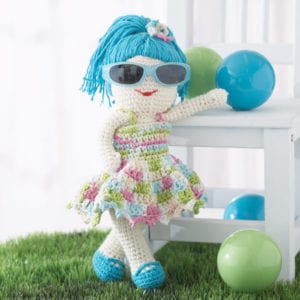 I happen to have some of this yarn some of it is part balls, but this is so cute I may have to make this one up my self. The final pattern for this fun fabulous collection is this super cute _Fun In The Sun Crochet Doll Pattern. The kids will love this adorable easy to work up the pattern you'll be needing to make a few in different colours, I know once I make one I'm more than likely going to hear, can I have one too mommy? When the pattern is this cute I'm not gonna say no.
This Fun In The Sun Crochet Doll is made with the Lily Sugar N'Cream you could use the Handicrafter if you have that as well. You can easily use the worsted weight yarn as well It will be equally as cute. I may attempt it in whatever Blanket yarn or bulky weight that I have to see how big I can get this to go.
If you don't happen to have stuffing at home, I save all my yarn bits from everything I make tuck it away,  I use the bits to stuff things or will use bot the yarn bits and stuffing to make the stuffing last longer if I'm making a lot of items that will be needing it. I would love to see photos of your finished dolls!


More Pattern Suggestions
More Crochet Pattern Ideas