6 Crochet Beach Ready Patterns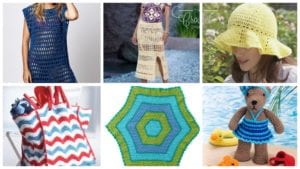 Summer is finally coming let's get our selves ready for that wonderful warmer weather using these fun beach-worthy patterns, and who can resist Rita the adorable summertime bear!  From a stylish beach hat to keep the sun out of your eyes, to the cute beach-chic skirt or a coverup, to a new beach bag for carrying towels you're covered with these beach-ready patterns.
The perk with creating your own beach collection is that you can make it all match. Like me you're optimistically preparing for the summer it's never too late to get started working on your warmer weather outfits.
I'm so done with looking out the window and seeing grey in the sky snow on the ground and skating down the driveway any time I have to leave the house. It's time to get summer ready with this fun beach time collection, we have you "covered" with these patterns.
Pattern Suggestions
---
Crochet Beachy Keen Cover Up Pattern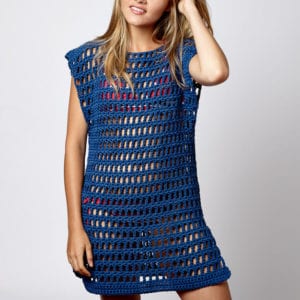 I have actually made this Crochet Beachy Keen Cover Up Pattern it's great, I have even worn it as a top with a little tank top under it. For mine I used a few different colours of the yarn for a stripped look it is such an easy top to make. I made a second one very similar in the cotton cake because it was such an easy pattern I had fun playing, but for the second one instead of seaming up the side, I chained a strip for each side and laced the sides.
The Beachy Keen Cover Up Pattern was made using Bernat Maker Fashion if you are a beginner that is a great yarn to use to learn with, it's easy to work with, and where it's a tube it doesn't split like a lot of the other yarns do. This is a great beginner piece if your new to learn on, with the simple two-row repeat you'll have the stitches mastered by the end of the cover-up. Bernat Maker Fashion has some really pretty colours, so get playing and have fun making your Beachy Keen Cover Up,

Crochet Caribbean Skirt Pattern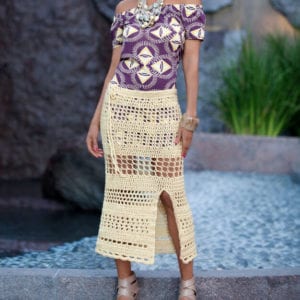 This Crochet Caribbean Skirt Pattern is super cute I haven't tried anything like this so I would love to see if anyone else has made it, or see it after you get it done. The Caribbean Skirt would be a cute cover-up for over your bathing suit if you didn't like the top style, or simply a fun alternative. I'm not a big skirt wearer but this is pretty cute.
the Crochet Caribbean Skirt Pattern is Designed by Double Stitch Twins. Made using Red Heart Soft Yarn, that yarn is so pretty. If you go with the non-solid yarn keep in mind you will likely need an extra ball, those tend to be smaller amounts than the solids, but no matter what you choose to go with it will be a pretty shirt.

Crochet Sun Hat Pattern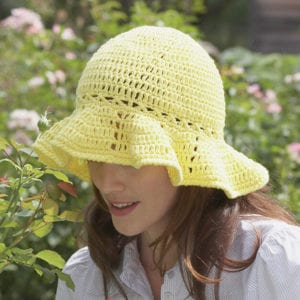 I may not be a skirt person, but I am a hat person, especially in the summer I have sun sensitivity so I was pretty excited when I saw this Crochet Sun Hat Pattern. It's made with the Lily Sugar N' Cream cotton so it will be nice and light you won't sweat like crazy like you would in a heavier yarn. I am going to make myself up a couple in a few colours.
There is a YouTube video if you are someone who likes visual help as well as written. Following both the video and the pattern is the best way to learn how to read a pattern, that's how I learned following Mikey's pattern along with his video's before that I would get lost so easily. These Crochet Sun Hats would also be a great craft show item if you do shows that are in the spring and summer.

Crochet Beach Time Hexagon Blanket Pattern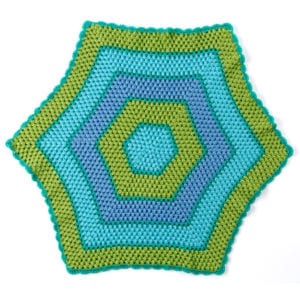 Not only would this Crochet Beach Time Hexagon Blanket Pattern be an amazing beach blanket, but because if the stitch it would be an excellent floor blanket for a little one. If you have a bigger family as I do, or a room hog like I am with this pattern it's really easy to go as large as you want it to be. I like the idea of having a dedicated beach blanket to go to, instead of grabbing whatever gets drug back to you when you say "can you grab a blanket to sit on".
The Crochet Beach Time Hexagon Blanket Pattern was Designed by Shari White using Red Heart Soft Baby Steps, I think this would look pretty in the Ombre yarn,  there is a beachy coloured one that I have seen it would be really pretty for this Beach Blanket.

Crochet 4th Of July Beach Bag Pattern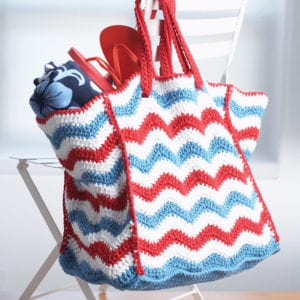 This Crochet 4th Of July Beach Bag Pattern is a nice large one so you can shove quite a bit into it, I'm always over-prepared for everything so I appreciate a bag with people like me in mind. The less that I have to carry in my hands the happier I am, it frees them up to pick up shells and driftwood to make the best sandcastle… sandhill let's be real… ever!
The Crochet 4th Of July Beach Bag Pattern is made using Lily Sugar N' Cream so you can make it match your hat. This would also be great to make for craft shows to have as a set with the hats, or by themselves.
Mikey did a video for this one as well which is great for me because I always struggle with the chevron when I don't follow him.

Crochet Beach Bear Rita Pattern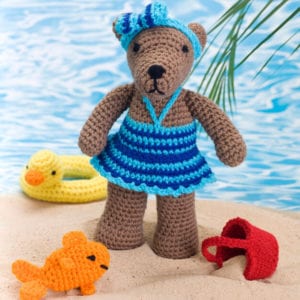 I know the  Crochet Beach Bear Rita Pattern isn't necessarily something you would take to the beach but Rita was just way too cute not to be included, and she seemed the most fitting way to end this collection. If I could have found a pattern like the one the little bear is wearing I would have included that too. Rita is a fun little bear for little ones to play with at the beach or home!
Beach Bear Rita was Designed by Michele Wilcox, She designed Rita using Red Heart Super Saver. you can easily use your little one or your favourite colour for Rita. Be like Rita, be beach ready at all times!

More Crochet Pattern Ideas
More Crochet Collections Pattern Ideas