6 Colourful Crochet Creations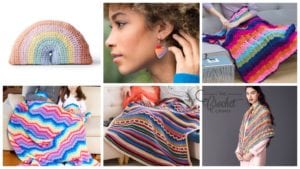 My daughter's school sent out an email last week asking that everyone please put a rainbow in their window in some form, to show that we are all together in this together that we are one. It was a beautiful sentiment, not only because a rainbow to me is so pretty but it's unity in its purest form all those colours coming together creating something pretty amazing.
This collection is inspired by rainbows, those colours all coming together and creating some pretty spectacular patterns. The last few days have been pretty grey cold and rainy here, now more than ever a rainbow is needed with the bright and cheery colours.
Pattern Suggestions
---
Tunisian Hoop Earrings Pattern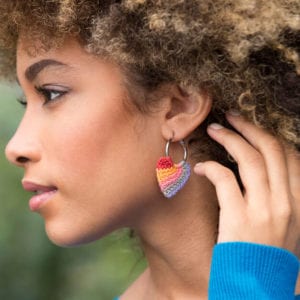 I love making earrings, they make great gifts, so easy to personalize in someones favourite colours, I make them for craft shows and my daughter and I love wearing them too. So this little rainbow that you can wear on the go really appealed to me. This Tunisian Hoop Earrings Pattern is defiantly one that I plan on trying right away.
This Tunisian Hoop Earrings Pattern was designed by Jeanne Fabre made using AUNT LYDIA'S® Classic Crochet Thread, Size 10. If you don't have the thread and want to try out these earrings but don't necessarily want to buy a whole ball. I suggest that you can also try cross stitch floss, there are so many fun colours that I can't always find in the crochet thread, so I started using the floss, I am an avid cross-stitcher so I tend to have all kinds to play with.


Crochet Rainbow Waves Throw Pattern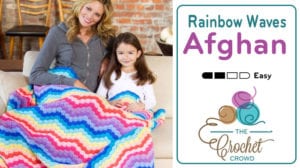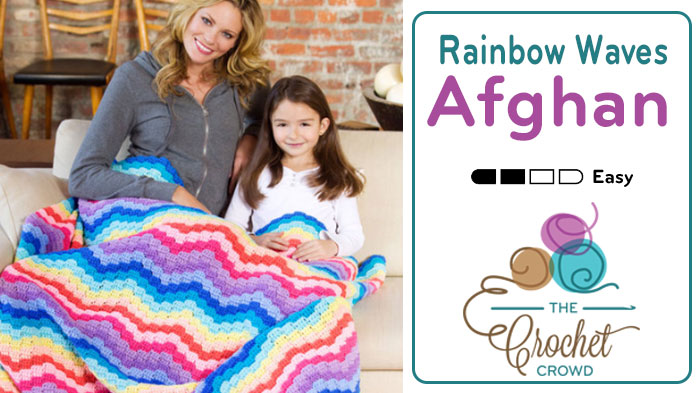 This Rainbow View Crochet Throw Pattern is really stunning. You can decide to crochet using the back loops as it is suggesting or do the regular stitches. Each has a unique way of looking. If you review my video tutorial on the bottom, you can clearly see the difference between the two stitching techniques. Personally, I don't think the back loops on this project is tough at all and looks far better.
Honestly speaking, this afghan takes a bit of getting started to count the stitches. You may think you are screwing up as it takes 2 rows to be done before it starts looking like the pattern. So stick with it and you will be happy.
For this pattern, I have not been able to figure out the multiple counts to make different width sizes.

Tutorial
©2013 The Crochet Crowd, Michael Sellick
Crochet Rainbow Pillow Pattern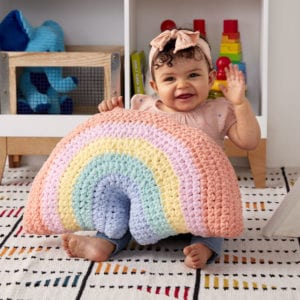 Babies and toddlers seem to love bright colours and squishy things, this Crochet Rainbow Pillow Pattern would make a lovely cuddly pillow, as well as a cute decoration for a Rainbow room. This pillow would make a great baby shower gift, and work up fast so if you were stuck trying to figure something out this is a great pattern for that.
The Crochet Rainbow Pillow Pattern is made using Bernat Baby Blanket it's a nice thick yarn so this project that not only looks cute but works up super cute. Little ones young and old will love this Rainbow Pillow to brighten up their day. A great birthday gift, baby shower or a just 'because of' gift.

Crochet Southwestern Throw Pattern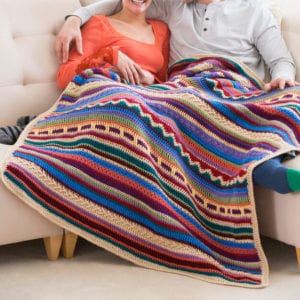 This throw is such a pretty pattern, you can choose to make it up in bright colours or choose ones to suit a room. This Crochet Southwestern Rainbow Throw Pattern full of fun texture is defiantly one of those blankets you will enjoy doing, whether it's in as many or as few colours as you choose it's a fun pattern.
This Southwestern Throw was designed by Marianne Forrestal using Red Heart Super Saver or any worsted weight you happen to have that you think you would enjoy this Throw pattern in. I'd like to alternate the same ombre all the way through with coordinating solids or alternate two different ombre. But that's just because I love my ombre haha.


Crochet Triangular Shawl Pattern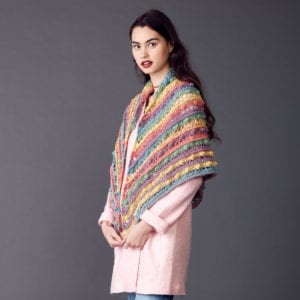 I just have to say I love all things Caron Cakes so when I see a pattern come up its instant love. What's not to love the colours are amazing, the texture and weight are lovely and it's wonderful to work with the added bonus the finished pattern! This Triangular Crochet Shawl Pattern is no exception. This Shawl Pattern has some fun and different textures to it, it's a great springtime shawl with the fun pop of colour and light but coziness.
This Crochet Triangular Shawl Pattern is an easy pattern made up of course of the Caron Cotton Cakes. (who doesn't love cake right!) I just love all the colours these cakes come in, this year has some really pretty new colours as well as a couple of the old colourways.
One thing I can't street enough is that some of these patterns were written for the old ball size, please keep that in mind when you are picking up yarn for this or any of the Cotton Cake patterns. when it says the number of balls needed that is the old cake size for most of them unless it is a newer pattern.


Rainbow View Crochet Throw Pattern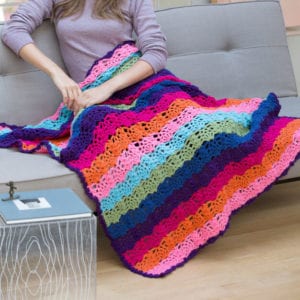 This throw is a really eye-catching pattern, you could work it up in 7 different colours if you like or choose 2 and alternate, or just use one for the whole thing.  Whichever colour technique you really want it will look wonderful. This Rainbow View Crochet Throw Pattern would also make a great stash-busting project if you wanted to use up the yarn you had at home in a worsted weight.
The Rainbow View Throw was designed by Roseanna Beck she made this pattern up using Red Heart With Love. Feel free to play with the colours have fun with it make your self a rainbow of your own.


More Assorted Crochet Collections