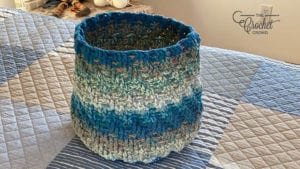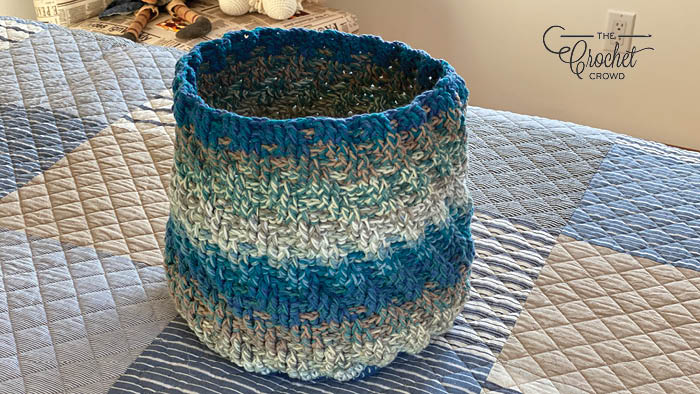 Crochet Marled Basket
The Marled Basket is using Caron Big Cakes. The basket is super easy. It is about 12″ diameter by 12″ tall.
It uses 2 balls of Caron Big Cakes. You have two choices for using 2 strands together. For the basket shown here, it's my own sample and I used two different colours of Caron Big Cakes at the same time. It was 1 ball of Blue Macaron and Blueberry Scone. It is a pure fluke it matched my bedspread. With crochet marl, you never know how it will look until you do it. This is what makes it fun for me.
Choice 1:
Grab the ends from the two balls and crochet them together.


Pattern Suggestions
Choice 2:
Grab the end from the one ball, then the other end from the same ball. This will use the same ball to do both strands. I demonstrate that in the tutorial below.
For me, I did Choice #2 to create my own version. There is a beautiful advantage in doing Choice 2 and I explain that in the tutorial below.
Crochet Marled Basket Tutorial
Tips for Using the Same Yarn Ball for Marled Look
More Home Decor Crochet Patterns