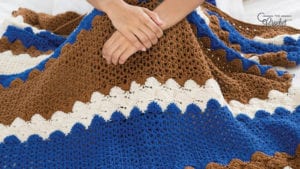 Try a Sea Throw
This afghan caught my attention as it has one of my all-time favourite crochet stitches, the Catherine Wheel Stitch.
I was just looking for something unusual and it wasn't until I opened up this pattern that I noticed that. I thought the 'chevron' looking likes were, in fact, wavy stitches. What a pleasant surprise.


More Crochet Patterns to Consider
If you are looking to expand your skills and do something that is potentially out of your comfort level, this afghan may be up your alley.
Get the free pattern, it's called the Sea to Shining Sea Throw.
Crochet Afghan Pattern Ideas